10T Solutions and Convergia Announce a First of Its Kind IoT Market Partnership With a Web Marketplace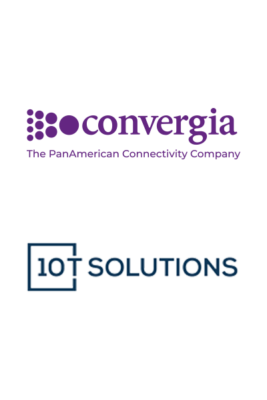 Press Release (ePRNews.com) - Apr 08, 2021 - Convergia, the Pan-American Value-added Distributor of connectivity and 10T Solutions, the IoT Solutions company, announced that they entered a Market Partnership to offer a Marketplace of vertical market IoT solutions, including Smart Agriculture, Smart Water, Smart Environment, Smart Asset and The CxC IoT App Factory Platform. Visit the 10T branded web Marketplace at www.convergia.10tsolutions.com for the latest updates and information.
Convergia cultivated a U.S. channel partner program designed to meet the requirements defined by our Master Agents, Market Partners and Channel Partners. 10T Solutions, Convergia's new Domain Market Partner, specializes in complete end-to-end solutions, offering highly specialized IoT-connected products and services, through carefully orchestrated presales consulting, hardware, firmware and software design, provisioning and fulfillment, to support the most demanding IoT solution needs.
Jose Jouvin, director of commercial sales in North America, states: "To be successful with IoT projects, our channel partners and customers need a Market Partner with the domain experience to deliver and support the best solution to market. 10T fits that requirement with decades of successful connected product industry experience." Convergia is enthused to add 10T as a Market Partner to our partner network.
Jatin Garg, Founder and CEO of 10T Solutions, adds: "We're very success-focused; not one to just talk about IoT but to deliver it and we've been doing it for a long time. When Convergia came to us, we were very excited to create a unique way to deliver our solutions and services to both our channel partners and customers. We build our business on trust, and trust comes from mutual success." 10T Solutions and Convergia are working together to provide Connected Solutions for our channel partners and their customers.
###
ABOUT Convergia
Convergia is a Pan-American value-added distributor of connectivity solutions, delivered through channel partners. Convergia foundation is a high-speed network backbone through Canada, the U.S., Mexico, and the rest of LATAM with last-mile copper, fiber, and cellular wireless connectivity for voice, data, and IoT connectivity products and solutions. Convergia is a member of Future Electronics' global multi-billion-dollar group with more than 20 years of experience offering telecom voice, data, and IoT solutions to a wide variety of channel partners and customers that benefit from Convergia's high-quality delivery, service, and 24/7/365 support by people for people. For more information, visit: https://www.convergia.io
###
ABOUT 10T Solutions
10T Solutions is a US-based provider of IoT Products and Solutions, delivered through channel partners. 10T's mantra is "Making IoT Work". 10T founders have over 25 years of experience and success in IoT / M2M connected products in Industrial, Enterprise, Supply Chain, Government, Healthcare and many proven verticals. The company excels in delivering successful deployments of large-scale connected products in critical business applications. 10T's solutions and services allow partners and customers to realize ROI benefits, fast time to market and a lower TCO. For more information visit: https://10tsolutions.com
Media Contact:
Convergia
Yanishea Jean-Marie
+1 (514) 6027087
10T Solutions
Audrianna Powell
+1-617-221-3212
All product names, logos, and brands are the property of their respective owners. All company, product, and service names used in this website are for identification purposes only. The use of these names, logos, and brands does not imply endorsement.
###
Source :
Convergia

Business Info :
Convergia Inc
237 Hymus blvd.
Pointe-Claire, Quebec H9R 5C7