Axe Jackeline Velez
Axe Jackeline Velez about how to get someone killed celebrating the end of Tax Season...throwing an ax at them could be the best way to that we have ever heard of.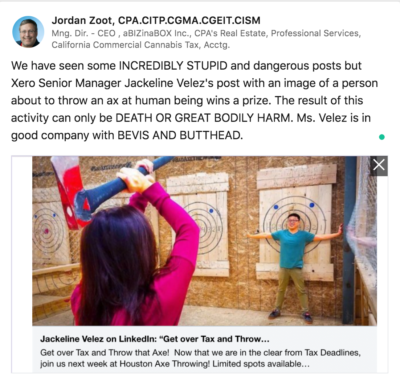 Press Release (ePRNews.com) - Oakland, CA (USA) - Jun 10, 2018 - MS. JACKELINE VELEZ…
…I am sorry, but ANY time someone advocates wreckless stunt that literally crosses the line from grossly negligent and STUPID to POTENTIALLY LETHAL and demonstrative of DEPRAVED INDIFFERENCE TO HUMAN LIFE I am going to tag it, call it out and do everything and anything I can to prevent a horrible injury or the death of another human being.
The idea that \"stress relief\" or \"fun\" would include throwing a potentially deadly weapon such as an ax at another human being is twisted and sick.
Would it be a bad thing if a Xero Accounting Partner would up on the floor in a pool of blood, DEAD or with his or her head split open because someone followed your suggestion and split their skull open with an ax? The conduct in the photo is beyond STUPID it is outright reckless. Worse yet, the event appears to have been expressly approved by Xero at the corporate level. Here is the event registration for the event that appeared on Eventbrite for Dallas.
Source :
https://smellystinkyea.com/2018/06/09/axe-jackeline-velez/