Commit to a Healthier Lifestyle with Healthy1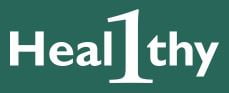 Press Release (ePRNews.com) - Orlando, FL - Jul 04, 2019 - With the best vitamins and mineral intake provided by Florida-based HealthyOne, you can be guaranteed to be putting your body back on track for a better future.
HealthyOne is committed to providing the best-quality vitamins, minerals, and supplements on the market. And with a 99.99% re-order rate, customers are happy working with a reliable and dependable company.
A locally-founded and family-owned business in Orlando, their mantra and philosophy are all about helping others to improve their health.
"We nurture the body and mind with wholesome supplements," commented owner Matthew Zifferblatt. "We started this business for our customers, and stand by our commitment to quality products at competitive prices."
Their 14 products range from Vegan Protein to Phytoplankton to Berry Blast and Choice Greens, and all are packed with the natural goodness to make our bodies feel better in themsleves..
Mr Zifferblatt added: "Clients can consult with one of our nutrition specialists first and get a regiment of the right things they need.
"Our goal at HealthyOne is for our customers to live medication free, or as close to that as possible. To do so, we strive for perfection with high-quality supplements.
" Although eating healthy and maintaining regular exercise habits play a big role in what we do, so do our supplements. Put the right thing in your body, and your body will treat you right."
The business is certified with Fitness Nutrition Coaching, USDA Organic and ICS, so guaranteeing a knowledge approach to your needs.
He added: "Our third-party testing will show that Healthy1 can provide not only quality service but scientific research that goes into all our products.
"We do not just sell vitamins, but provide intelligent nutritional information with research backed by scientific studies and clinical testing.
"In the 40 years of studying nutrition, we found it to be made easier with our premium blends. Our products consist of not only vitamins and minerals but the love our family puts in every bottle."
If you're looking for more information, then contact their nutritionists on 833-835-5564 or 407-613-2823. Or view their website www.healthy1inc.com for a list of their top quality products.