DPaul's Travel launches a brand new website to transform your travel experience
DPauls celebrates the spirit of travel and exploration by offering up to inaugural 50 % off on its new website www.bookmysightseeing.com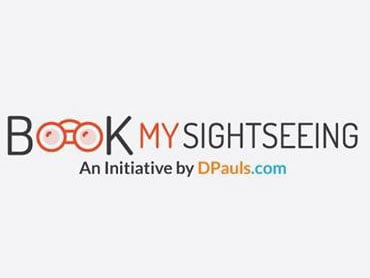 Press Release (ePRNews.com) - New Delhi, India - May 07, 2019 - DPauls Travels and Tours Ltd., one of India's leading tour and travel companies, has launched an all-new website to bring you information about the most popular travel destinations in India and around the world. This platform is a part of the series of innovations that the company is planning to transform the way people all around the world travel and plan for it.
Planning a vacation can be a little overwhelming, but not so much when left to the experts. In keeping with its decades of experience, the award-winning travel planner and advisor that has millions of happy customers around the globe, aims to provide a one-stop meaningful and informative solutions for all the travel enthusiasts to plan their travel.
You may be planning travel for leisure, solo trip, family vacation, or business travel. This website provides amazing inspiration for vacation destinations around the world and in India. You will find destinations that are both popular and offbeat across Asia, Africa, Europe, North America, South America, and Oceania. You can get an amazing range of packages including Tours & Sightseeing, Religious tours, Water Sports & activities, Adventure, Desert Safaris, Island hopping, and Caving etc.
Not only does it curate handpicked tours by the most credible and expert suppliers but also lets you simplify your planning and booking process.
This is the first website in the country that details every aspect of your travel. Every holiday package is indicated by the approximate time and the associated cost. It gives you an overview of the place, best places to sightsee, exciting things to do, and genuine customer reviews.
It lets you customise your travel as per your interest into your budget, duration, and the major attractions of that destination. The website provides real-time information on hotels, flights booking, on-time tours & transfers, and other ancillary services.
All the tours booked are expertly managed by experienced and reliable tour guides so that you come back with memories to last you a lifetime.
DPauls believes in helping you get the best travel experience wherever you go. Therefore, through this website, not only we give you information about the different destinations but completely take over all the planning and other most minute details, so that you can fully enjoy your vacation.
The company aims to provide a more engaging and interactive user experience to its website visitors and uses cutting edge technology to provide real-time 24X7 customer support through chatbots.
As an inaugural offer DPauls is offering a huge discount of up to 50 % on select destinations in India and around the world. The company is offering free cancellation services on selected routes and destinations within a stipulated time period.
The website is so easy to navigate that you can actually book your vacation in less than ten minutes with DPauls!
Source :
https://www.bookmysightseeing.com/

Business Info :
DPauls Travels & Tours Limited
Shivalik, B-36, Malviya Nagar,
New Delhi, Delhi 110017
Phone: 011 6677 7111
Website:
https://dpauls.com/