Howiboughtherring.com Provides Actual Customer Experiences from James Allen Diamond Ring Store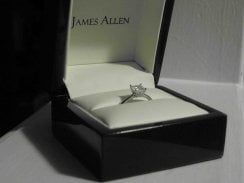 Press Release (ePRNews.com) - USA - Jul 11, 2018 - In the world of faceless shopping, howiboughtherring.com is a shining ray of light for shoppers who are out trying to find the perfect diamond engagement ring. The website is a collection of actual reviews from customers who went through the same hassles trying to find a ring for their loved ones. Howiboughtherring.com is a free gift to all clients who understand the importance of first-hand accounts and guidance which helps in avoiding costly mistakes that have become a norm with the growth of e-commerce.
Speaking about the objective of the website, the Founding Director said, "I have been through the pressures it takes to plan an engagement and have it remain a memorable moment for a lifetime. It is out of a personal push to save you from going through the same pains that I went through, especially when looking for a ring. My joy is in being a trusted guide as you go through the endless online stores that sell diamond rings and have to make a final decision. James Allen was my rescue, and with their steadfast commitment to customer satisfaction, you can also have the pleasure of their services."
The first attraction that howiboughtherring.com makes clear will capture a shopper's attention is the beautiful James Allen engagement rings gallery which is nothing but pure class. This makes a great way for clients who want to figure out what type of ring to buy as the variety in style is more than sufficient for each requirement. Howiboughtherring.com equally provides information for customers who would want a customized ring on how to go through the simple customization process at James Allen.
Talking further what it takes to make an engagement extra special, the Founding Director added, "The beauty of sharing the rest of your life with someone is in showing from the very start that you understand and respect their needs. If you are lucky enough to know her preference when it comes to rings then giving her an exact replica is a good way to start. James Allen provides room for endless customization so that you can leave nothing to chance when it comes to the joy of your better half. One thing you can always be sure of is that a diamond ring says much more than thousands of words would and is the perfect way to seal an engagement."
The assurance beyond any doubt as to the quality achieved by clients when they buy James Allen rings is one that Howiboughtherring.com greatly emphasizes on. For shoppers who have any hesitations, the blog recommends getting in touch with the customer care at James Allen for proof beyond reasonable doubt. The store goes to all lengths to ensure utmost professionalism is maintained and there is never a reason to worry about their authenticity. James Allen is also a BBB accredited bureau meeting the high standards set by the body.
About Howiboughtherring.com

Howiboughtherring.com is an online blog that has taken a path less traveled by providing shoppers with a platform to go through actual customer reviews on their experience with James Allen.
Contact Details
Howiboughtherring.com
Email: adam@howiboughtherring.com
Website: https://howiboughtherring.com/
Source :
Howiboughtherring.com