NFC Academy Is Offering Accredited Homeschool Programs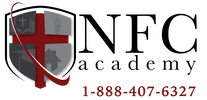 Press Release (ePRNews.com) - Tallahassee, FL - Feb 24, 2020 - NFC Academy is offering programs for full-time, part-time, transfer, and international students. The programs cover grades from Kindergarten to grade 12 and are delivered digitally for grades 3-12 and the option of the print curriculum for kindergarten through elementary grades. NFC Academy has invested its efforts to provide families with an academic program of excellence and a Biblical worldview. The goal is to provide families with an educational opportunity that prepares their children with a fully accredited program providing them access to the college or career of their choice, while also preparing them with principles for making wise life choices. Their programs are not just limited to families in the USA but are available across the world again with some of the most affordable tuition cost available.
"At NFC Academy, we are dedicated to reigniting the passion for learning in children, where students can pursue right from the comfort and positive environment of their homes and from anywhere across the globe. We offer the best 8th-grade homeschool curriculum online in Florida delivering curriculum of the core subjects – Language Arts, Math, Bible, Science, and History and Geography," commented the Academy spokesperson. "Our homeschool programs also offer optional external web links, interactive learning games, audio and video clips, and off-computer assignments to help our students develop skills required for academic success in today's time."
The Academy offers accredited high school programs that are confidence boosters for students and parents across the country. They can now be confident that the work completed at the NFC Academy will be highly regarded across all schools, colleges, and universities in the country. The NCAA also approves the Academy's core courses for initial academic eligibility. This is another indication that the Academy continues to meet the rigorous quality standards for its families. It also offers dedicated resource teachers for each student and daily lesson plans as a part of its curriculum.
"We aim to provide a well-rounded academic foundation that leads to economic and social mobility. We take pride in developing innovative learning programs that include flexibility for the student in their schedules as they complete their courses," commented the Academy spokesperson. "Our curriculum recognizes that every student is special and brings out their individuality and unique talents. As such, our students have a strong belief in their limitless potential and partner with us to make learning a joyful experience. We provide a viable academic foundation that equips our students with the skills necessary for a secure future."
NFC Academy is one of the leading private schools offering the best online homeschool programs in the entire US. It is known for providing accredited full-time and part-time homeschooling curriculum and programs to students from kindergarten to 12th grade. Students who join the Academy for homeschooling programs can complete their education from the convenience of their home. Since providing well-planned educational programs, it's only unmatchable, NFC Academy excels when it comes to offering the best online home school program.
About NFC Academy
NFC Academy is a homeschooling company headquartered in Tallahassee, Florida. With years of experience, offering fully accredited part-time and full-time homeschooling programs for Kindergarten to 12 grades. NFC Academy has emerged as the leading destination for those looking for the best accredited online schools.