NFC Academy Is Providing Accredited Homeschool Programs In Tallahassee, Florida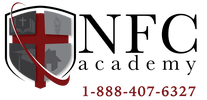 Press Release (ePRNews.com) - Tallahassee, FL - Mar 19, 2020 - NFC Academy is a private online academy that has given itself to build on the ever-growing demand for homeschooling by creating a program that will meet the needs of students in Kindergarten through high school. The Academy has achieved this by developing an outstanding model that is operated and managed by experienced educational staff who want the success of all learners in K to 12th grade. To further complete their program to the homeschool community, NFC Academy's program is distinctive from a Biblical worldview.
"In addition to our online program for the 3rd-12th grade, our program also offers a print curriculum for students in Kindergarten – 2nd grade as well as a curriculum for students in 3rd grade to 5th grade for students who prefer to still have books for their work. Families have the same advantages as our print curriculum as those in our online program when it comes to daily lesson assignments," commented the Academy's spokesperson. "Our NFC Academy Daily Lesson Planner for K-5 gives the parent and student the exact daily work to complete in each subject, so students finish when they are scheduled in their school year. The NFC Academy Daily Lesson Planner takes the guesswork out for just how much to do each day. In our K-5th grade program, the home is the primary teacher, and you have an experienced NFC Academy assistant for your questions. 
In high school NFC Academy has taken the initiative of offering NCAA approved online courses for students in 9th-12th grade. These courses are necessary for student-athletes who are after possible scholarships at the collegiate level. Still, it also signals the quality of the program to those who are not concerned about an athletic scholarship.
"NFC Academy has set standards in homeschooling program delivery, ensuring need-based learning for every student. For grades 3 to 12, we provide all the coursework and all related material, including science experiments and online library, right on the student's computer. Another option is in their print program for Kindergarten to Grade 2 students can expect a colorful print curriculum with the NFC Academy Daily Lesson Planner," explained the company spokesperson.
"The print program offers an option for 3rd-5th-grade homeschool curriculum online program. In the online program, we offer parents the choice to serve as teachers for their children up to grade 7, or they may engage the Academy teachers as the primary teachers. No matter what the parent selects, even if the parents are the primary teachers, they will have an NFC Academy assigned staff for help during their school year."
NFC Academy is offering a comprehensive online curriculum for students in grades 3 through 12. For instance, the institution provides the best 6th-grade homeschool curriculum programs, which include core subject areas, including Bible, math, science, language arts, and history and geography along with electives. As the Academy strives to reignite the passion for learning in students, they ensure their courses are exciting and interactive in every way possible. They include text-based lessons, quizzes, assignments, and tests that engage students while they learn.
About NFC Academy

NFC Academy is an accredited private Christian school offering homeschool programs located in Tallahassee, Florida. With years of experience, offering fully accredited part-time and full-time homeschooling programs for Kindergarten to 12th grade, NFC Academy has emerged as the leading destination for those seeking for online Christian schools.
Source :
NFC Academy