NFC Academy Provides Christian-based Homeschooling Programs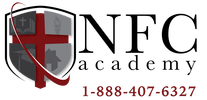 Press Release (ePRNews.com) - Tallahassee, FL - May 22, 2018 - NFC Academy is a private school specializing in the provision of online programs to learners across the globe. The learning institution is founded on the principles of a biblical worldview and offers an online program from third grade through high school and a print option for families starting in Kindergarten up to fifth grade. NFC Academy is fully accredited with NCAA approval for core course for initial student eligibility. NFC Academy maintains a high commitment to meeting educational standard which can be seen in their accreditation with the Middle States Commissions of Elementary and Secondary Schools along with the Florida Association of Christian Colleges and Schools who are members of the National Council for Private School Accreditation.
Speaking about modern education needs, the Academic Director said, "Learning has been simplified with advancements of technology and access to the Internet. At a click of a button, any subject of interest brings thousands of results which you cannot exhaust. Online homeschooling is at the forefront of making this same principle apply to organized learning. Our programs are similar to what learners are offered when they go to a classroom with the only difference being the mode of presentation with the convenience and flexibility of setting your own schedule for school. We have simplified all the content and by using our guides, learning instantly becomes an exciting affair for any student."
Parents and students who are after the best accredited online homeschools have in NFC Academy a reliable and professional team who have all it takes to address their demands. The institution is committed to providing the right kind of support, tools, and encouragement which will provide opportunities for excellence. NFC Academy brings with them priceless hands-on experience and expertise as homeschooling has been their sole field of focus. Programs are offered for students' right from kindergarten to high school with the overall aim of the school to prepare learners for college and life.
Talking about the role of parents in homeschooling programs, the Academics Administrator said, "As a parent who has made the decision to register your children for an online program there are responsibilities that come with it just like any other learning program. The very first encouragement a student receives is from the parent who is the first point of contact as a physical teacher. For lower levels such as kindergarten up to mid-level schooling, your duties are higher as you have to be an active part of their day to day lessons. We provide a teacher's guide to assist you in leading the learner through each lesson, and you do not have to worry about the planning."
The emphasis of the programs offered by NFC Academy revolves around Biblical teachings and principles which are the guiding beliefs upon which the institution is based. Each learner is as such not only prepared for academic excellence but is built spiritually to be a rational thinker to make wise life decisions. The Christian homeschool curriculum programs provided by NFC All the lessons are interactive and are designed to arouse interests in learning and to promote the Christian faith.
About NFC Academy
NFC Academy is providing learners from across the globe with an accredited program that offers Christian-based homeschooling programs right from kindergarten to grade twelve.
Contact Details
NFC Academy
3000 North Meridian Road, Tallahassee, FL 32312
Telephone Number: 888-407-6327
Website: https://www.nflcacademy.com/
Source :
NFC Academy