Praying.Works Announces New "Faith Goals" Feature Allowing Users to Set and Receive Reminders
Aligning with Christianity's holiest season, Praying.Works releases their latest update for both the platform's online and mobile applications. The site also debuts a new user feature called 'Faith Goals'.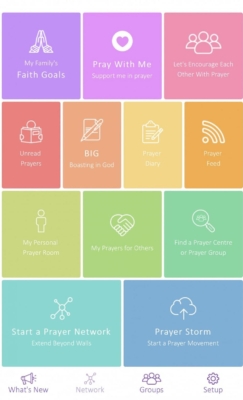 Press Release (ePRNews.com) - LONDON - Apr 04, 2018 - Praying.Works is the latest in 'churchtech' dedicated to prayer, with its original design meant to serve as a platform to help individuals, families, ministries and churches to document, share, and build faith through prayer.
The prayer app latest 'Faith Goals' feature only adds to Praying.Works growing online community for Christians enabling users to grow and interact through the free online prayer network. With powerful group and prayer request privacy levels, users can now enable instant privacy of their own prayers, while controlling who interacts with their personal prayers.
"We know that making faith goals for ourselves is deeply personal, which is why we decided to develop and release this feature around Easter––the time celebrating the resurrection of Jesus is central to our Christian faith," explains site Founder and CEO, Roy McEwen. "When we set goals, we are knowingly taking the human risk to trust God over ourselves, which requires faith. We want our platform for prayer to not only be a place for users to record prayers, but also grow their faith."
'Faith Goals' can now be shared within a trusted circle while still maintaining privacy at the users' discretion. When the privacy feature is switched 'on', all re-sharing is removed, allowing users to retain control over who can view the individual request. The developers made this feature easy to access as well, with the 'Faith Goals' feature set as the first button at the top left of the site and apps' interface. This allows the prayer network and app to be both private and communal when desired in an instant.
Currently, Praying.Works is accessible online at www.Praying.Works and for mobile devices on the AppStore and on Google Play. The online prayer network serves as a cross-platform for users, allowing the ability to log in from anywhere in the world online or through the mobile app. Users have access to their prayer requests and interactions right at their fingertips, with identical features and layout for both online and app design.
The company plans to continue adding new features to the prayer app to only improve user experience for users' prayer networks. All are encouraged to sign up for a free Praying.works account or download the app directly from the App Store or on Google Play.
About the company:
Launched in 2016, Praying.Works is published by TKiC Limited, which is a UK startup formed by Roy McEwen. Their mission is to provide a global praying tool to provide continuous unbroken prayer and praise to God our Father and our Lord and Savior Jesus Christ. Praying.Works is accessible globally online and for mobile on iOS and Android.
For media inquiries, please contact Marketing Manager, Katrina Douglas directly at +44 020 3868 7305 or via email at Katrina.douglas@praying.works. To learn more about the platform, please visit http://www.praying.works for more details.
Source :
TKiC Limited