Russia's Changing Role in Syria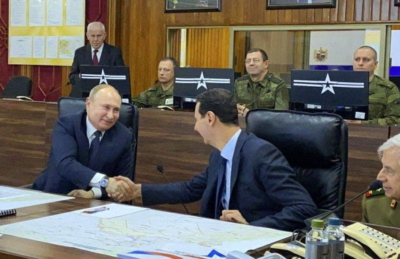 Press Release (ePRNews.com) - Delhi - Jan 17, 2020 - 2020 could be the year that sees Russian attempts at Middle Eastern control take some surprising new directions. Although Russia has been leading the charge in terms of efforts to resolve the Syrian crisis, that resolution only looks set to become even more challenging. With the growing competition from Tehran, alongside the fact that regime change looks less likely than ever, Moscow's plan for political settlement could be out of date long before it comes close to realization. And the added problems of growing confrontations with Libya, and changes to their relationship with Turkey, means that Russia is facing a crossroads. Russian goals and what they can be expected to achieve in reality are becoming more misaligned every day.
Country-Wide Reconciliation
In June 2019, Russian leader Vladimir Putin said that forward momentum in Syria had exceeded his expectations. However, despite the promotion of a more settled and peaceful region, Russia continues to put a high value on the Latakia region. This is because it is a very strategically important stronghold that could change the end result of Russian involvement in Syria. Since Moscow continues to be vague about their border plans for a more united Syria, that priority on Latakia is causing concern.
The Post-War Strategy
If Russian involvement in Syria continues to be a priority for Putin, the question becomes one of what the region will look like post-conflict. There are no obvious answers, and Turkey's invasion of Syrian makes those questions even harder to answer. With questions regarding Russia's influence in Turkey's involvement in the conflict, as explained by syrianconflictnews, Moscow is fighting a losing battle when it comes to their optimistic announcements. As major threats emerge, such as the improved Iranian entrenchments and the continued refusal of Assad when it comes to change, the future of Syria seems to grow increasingly cloudy every day.
The Assad Power Base
It was only five years ago that Assad seemed to be struggling to maintain control. Now, they have grown much more resilient, and their improved flexibility in the face of major threats is the direct result of international pressure. Although Russia continues to apply even more pressure, the focus is now on attempting to shift Assad's influence to a more amenable leadership. By spearheading political chess as opposed to all-out confrontation, Putin is clearly wary of change that is too rapid and unpredictable. Attempting to keep Tehran reined in could result in only more conflict and more regional instability.
Border Confusion
Russia has been very vague with their answers to the question of Syrian borders. The confusion only mounted when Russian MPs handed over control of captured territories to Damascus, where the current policies are proving to be damaging and vindictive. So the question of whether Russia plans to restore Syria's pre-war borders remains difficult to determine. This is only complicated by the growing Iranian influence in Syria, especially with their history of redrawing maps as they please. The plan on the ground might not be quite the same as the plan in Moscow.
Russia is clearly maintaining its vested interest in Syrian stability. How that impacts those on the ground level remains to be seen. As we move further into 2020 with no end in sight for the conflict, questions remain regarding Putin's end goal, and how Russian involvement is having to adapt to stay in control.