SPLASH !!! Announcing SuperWaterMan – The World's New SuperHero For Water
SuperWaterMan - The World's New SuperHero For Water is splashing on to the scene at 3rd Annual Hudson Valley Comic Con in Poughkeepsie, NY on April 21 and April 22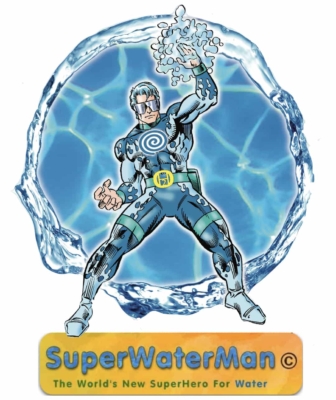 Press Release (ePRNews.com) - KINGSTON, N.Y. - Apr 10, 2018 - SPLASH !!! Announcing SuperWaterMan – The World's New SuperHero For Water. The only superhero completely created in the Hudson Valley
SuperWaterMan – The World's New SuperHero For Water is splashing on to the scene at Hudson Valley Comic Con, April 21 and April 22, 2018 – in Poughkeepsie, NY
LOCALLY GROWN, SUSTAINABLY SOURCED …
SuperWaterMan is a Hudson Valley creation. Like all Hudson Valley creations, SuperWaterMan is locally grown and sustainably sourced.
SuperWaterMan is the brainchild of Leslie Gabriel, a Hudson Valley water activist. Mr Gabriel, teamed up with Kingston, NY based DC Comic, Marvel Comic Inker, Charles Barnett III.
Other collaborators include, Kingston, NY costume designer and seamstress Maria Cabrera and local screenplay writer Jacob Carpenter.
To top off the locally grown initiative, the SuperWaterMan origin story starts off – at our very own Lake Minnewaska – Shawangunk Mountain Ridge, in Ulster County, NY – where SuperWaterMan finds his meets Mother Earth
VALUE OF THE SUPERHERO GENRE …
Let's face it Water needs a SuperHero.
The SuperHero genre lends a lot to the water crisis we face as a region, as a nation and as people of this planet. "The reality is that the value of water – is often overlooked and taken for granted. This attitude of indifference allows for the abuse, neglect and squandering of our most valued and essential elemental resource," declared Mr Gabriel.
According to Mr. Gabriel, "We need a new SuperHero that fights for water. Aquaman was a fish. Truth is he had scales and he never actually fought for water."
The SuperHero genre is needed to break through the noise and complacency surrounding the water issue – If its PCB's in our Hudson River, or our melting icecaps, or PFOA and PFOS pollution in Newburgh, NY, New Windsor, NY and Hoosick Falls, NY, or beach erosion, or fracking, or radioactive fallout, or water privatization, or water waste, or water bottling, or Flint Michigan, or water infrastructure, or fish kills and or toxic algae blooms — we all know the H2O issue is daunting. That is why we need SuperWaterMan, to lend his vortex powers to the cause of H2O. ̣
Because the SuperHero genre is a powerful communication tool. ̣ Because our current SuperHeroes do not fight for water. ̣ Because we need to wake people up to water > and SuperWaterMan – The World's New SuperHero For Water does just that.
For further details call 518 697 9190 or visit https://superwaterman.us
Source :
SuperWaterMan Studios

Business Info :
SuperWaterMan Studios
354 Main Street, #444
Kingston, New York - 12401 United States
Phone: 518 697 9190
Website:
http://superwaterman.us