2 Young Entrepreneurs Rise To Number 1 Overall in App Store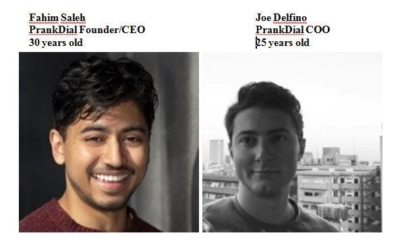 Press Release (ePRNews.com) - LOS ANGELES - Feb 23, 2017 - When Fahim Saleh (30 years old) founded PrankDial (a prank dialing app service), he had high aspirations. He brought on an awesome COO, Joe Delfino (25 years old). He didn't realize the app would go this far though.
Fahim Saleh said, "We wanted to build an app that would bring people laughs. Yes, we wanted it to go viral, but we didn't realize we would end up beating Netflix, Facebook and many other big companies to become Number 1 Overall in the app store. We're humbled and thankful."
PrankDial has grown to over 2 million installs, 200+ million calls made and 25,000+ Daily Active Users. PrankDial launched in the UK in January 2017 and took off shortly after.
After just a few weeks in the UK, PrankDial has risen all the way to Number 1 Overall in the app store.
In addition to doing well in the app store throughout the world, PrankDial is bringing much needed laughs to people who are feeling anxious with the current state of politics.
Joe Delfino said, "There are a lot of reasons not to smile and laugh right now, but we want to remind everyone that humor is our oldest and most powerful universal language."
CONTACT
Ben Weissenstein
International Business Development
PrankDial – The World's #1 Prank Calling Service
Ben@PrankDial.com
Download on iOS: https://itunes.apple.com/us/app/prankdial/id367287593?ls=…
Download on Android: https://play.google.com/store/apps/details?id=com.PrankRiot
Source :
PrankDial - The World's #1 Prank Calling Service