7 Different Types of Hair Oil and Their Benefits
For centuries, people have used oils for various medicinal and therapeutic properties. When it comes to hair care, one of the most versatile and natural solutions is hair moisturizer oil.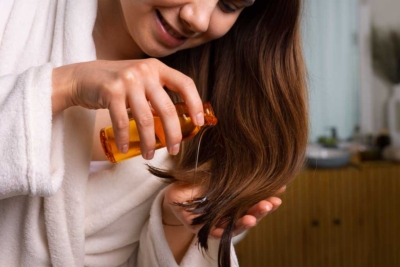 1. Coconut Oil:
Coconut moisturizing hair oil contains medium-chain fatty acids (MCFA), which provide easy and efficient absorption of important nutrients in the hair, skin, and body. It penetrates the hair shaft, reducing protein loss and enhancing hair strength. It's especially beneficial for dry and damaged hair, leaving it soft, shiny, and well-nourished.
The benefits of coconut hair oil are:
Repairs split ends: With dry and brittle hairs come split ends. Using coconut oil not only repairs them but also stops their recurrence.
Fights Dandruff: Coconut helps moisturize hairs by fighting off dandruff. Dandruff can be a result of the overgrowth of fungus or yeast on the scalp. Coconut oil's antimicrobial properties help fight dandruff in a natural way.
Strengthen the cuticle: The cuticle is a tough protective layer of your hair, and coconut strengthens the cuticle of your hair by protecting it from environmental toxins.
2. Argan Oil:
Extracted from the kernels of the Moroccan argan tree, argan oil is rich in vitamins and antioxidants. It's known for its ability to tame frizz, add shine, and improve hair elasticity, making it a favorite for those with dry or brittle hair.
Benefits of argan oil include:

Fights frizz: To tame frizzy hair, applying argan oil to pesky stray hairs keeps them in control and promotes shine and gloss in your hair.
Increase hair elasticity: Argan oil is rich in high antioxidants and is loaded with essential fatty acids and vitamin E that increase hair's elasticity. It helps restore shine to dull and lifeless hair.
Hydrates and softens hair: Argan oil is long known for its hydrating and softening properties.
3. Jojoba Oil:

Jojoba oil closely resembles the natural oils produced by the scalp. It's excellent for maintaining a healthy scalp environment, regulating sebum production, and preventing dandruff. If you're looking for Moisturizer Oil For Hair, jojoba oil is the answer for you as it adds moisture without making the hair greasy.
Benefits of jojoba hair oil:

Promotes hair growth and thickness: Jojoba hair oil is rich in vitamins and minerals, making it a magical hair oil. Vitamins B, C, and E and minerals like zinc and copper in aragan hair oil promote hair thickness and strength.
Maintain scalp natural balance: Jojoba hai oil contains antioxidants and antimicrobial properties that help maintain the scalp's natural moisture. It helps moisturize hair without making it appear greasy.
Stop premature greying. Premature greying is a common problem these days among many adults. Jojoba oil safeguards your hair like a protective shield. Because it is high in vitamins and minerals, jojoba oil can help prevent premature greying of your hair.
4. Castor Oil:

Castor oil is famed for its potential to promote hair growth. It's high in ricinoleic acid, which improves blood circulation to the scalp and nourishes hair follicles. Regular use may lead to thicker and longer hair over time.
The benefits of castor oil are:

Antibacterial and antifungal: Scalp infections are common in people, especially in the rainy and winter seasons. Poor hygiene can also lead to increased infection risks like dandruff, itching, and eruptions. The regular application of castor oil inhibits the bacterial growth of these bacterial and fungal infections.
Boost hair growth: The application of castor oil aids in hair growth. Many times, poor hygiene leads to dead hair follicles and a dry scalp. Massaging the scalp with castor oil increases blood circulation.
5. Olive Oil:

Rich in antioxidants and vitamins, olive oil adds shine and softness to hair. It's a great option for those seeking to improve hair texture and manageability. Olive oil also helps protect hair from damage caused by styling and environmental factors.
Benefits of olive hair oil:

It helps condition and nourish your hair. Olive oil is known for its moisturizing properties. It provides essential nutrients that condition and nourish your hair.
Calm and nourish the hair: With today's modern rush, where pollution has become common, our scalp goes through many stresses. Scalp stress can include anything ranging from the accumulation of dirt to scalp pruritus. Olive hair oil keeps your scalp calm and nourishes roots by penetrating the scalp's cellular layers.
6. Almond Oil:

Almond oil is lightweight and packed with nutrients like vitamin E and magnesium. It's known for its ability to reduce hair breakage, prevent split ends, and promote a healthier scalp, leading to stronger and shinier hair.
Benefits of Almond Hair Oil:

Softens hair: Almond moisturizer hair oil is an emollient, which means it can lock moisture in the skin and can help people with scalp eczema. The emollient makes your hair feel smoother to the touch and gradually gives it a softer texture over time.
Hair growth: Though it's not something scientifically proven, almond oil can still make your hair stronger and less susceptible to hair problems like split ends.
7. Rosemary Oil:

Rosemary oil is derived from the rosemary plant, which has an herbaceous aroma. For hair care, rosemary oil is used for its antioxidant, anti-inflammatory, and antimicrobial properties. Clinical studies show that rosemary oil can be as effective in encouraging hair regrowth as minoxidil.
The benefits of rosemary hair oil are:

Protects the scalp: The antioxidant properties of rosemary oil can protect both the hair and scalp from environmental stresses like UV rays and pollution.
Strengthen and repair hair: Almond oil makes hair less susceptible to breakage and diminishes split ends. The lubricating properties of nut oils, like almond oil, diminish friction during hair styling and protect hair.
Using Hair Oils: Tips and Techniques :
Choose the right oil based on your hair type and concerns.
Warm the oil slightly before applying it to enhance absorption.
Massage the oil into your scalp in circular motions to stimulate blood flow.
Distribute the oil evenly through your hair, focusing on the ends.
Leave the oil on for a few hours or overnight for maximum benefits.
Use a mild shampoo to wash out the oil, and follow with a conditioner if needed.
Conclusion :
Incorporating a variety of natural hair oils into your hair care routine offers a multitude of benefits. From coconut oil's repair and shine to argan oil's frizz control and jojoba oil's scalp balance to almond oil's softening properties, each oil addresses unique concerns. Castor oil stimulates growth, olive oil nourishes, and rosemary oil protects. Tailor your choice to your needs for healthier, lustrous hair.
Looking for a product that extracts maximum benefits from all the above-mentioned oils? Buy PhiloSophie Hair Gro oil ! Prepared using avocado Oil, Coconut Oil, Jojoba Oil, Amla Oil, and 12 other potent hair oils, our GRO Moisturizing Hair Oil is an amazing oil for hair growth and hair repair. We deliver products that are cruelty-free, vegan, and all-natural. Shop now!