8 Liner Games Evolve to Meet Florida Compliant Gaming Laws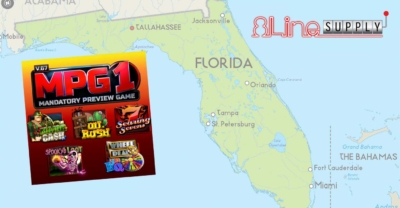 Press Release (ePRNews.com) - DE PERE, Wis. - Jul 05, 2017 - Gaming Operators Investing in Game Boards That Satisfy Regulations
The state of Florida's new gaming regulations are putting the squeeze on operators who want to provide quality gaming entertainment for their customers while remaining within the framework of the law. The new version 67 stipulation for 8 liner games and other Florida compliant gaming machines requires an investment in new game boards.
"All games coming out for the Florida market must have v.67 on the screen in order to be deemed compliant," says Matt Murphy, sales manager at 8 Line Supply, a leading distributor of premium gaming, amusement, coin-operated machines, accessories and parts. "The ruling mandates that all games must be a mandatory preview game to remove the element of chance."
Mandatory preview games (MPG) provide players with a sneak peek at the next outcome before they can continue playing. After the player sees the preview, they must hit the "Start" button a second time to engage the machine and play out those previewed results. The player can view the next outcome without inserting any money.
MPG 1 Multi-Game by Banilla Games – v.67
A popular v.67 game option for 8 Line Supply customers is the MPG 1 Multi-Game by Banilla Games, featuring VGA graphics. This 5-in-1, finite-based, multi-game has removed the element of chance by showing predetermined outcomes. MPG 1 features Major Cash, Oil Rush, Spooky's Loot, Wheel Deal and Searing Sevens.
"While the law requires an investment in new boards for Florida compliant gaming, operators will be able to swap out those boards should regulations change again," Murphy explains. "The ability to retain a portion of the gaming asset ensures operators won't experience a complete loss of all 8 liner games in the event of future changes."
About 8 Line Supply
8 Line Supply is a leading distributor of 8 Liner, Cherry Master, Pot-O-Gold and Coin Pusher amusement and gaming machines. In addition, 8 Line Supply provides a full line of accessories from top brands in the industry including game boards, LCD monitors, bill acceptors, harnesses, power supplies and more for customers throughout North America and around the world.
Customers are invited to place orders at http://www.8linesupply.com, call 920-347-0333 or visit the 8 Line Supply retail location at 1755 E. Matthew Drive in De Pere, Wisconsin.
Source :
8 Line Supply