A Global Release of an Organic, Effective Combo With Oregano and Mastic Essential Oil for Health and Wellness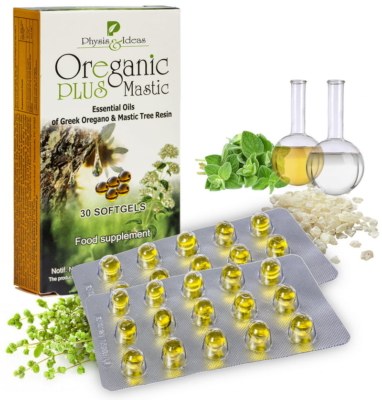 Press Release (ePRNews.com) - Feb 15, 2021 - There is a growing need for pure products of high standards with nutritional value and beneficial properties for the body's functions. The Greek company Physis & Ideas responds to this need and launches the innovative product Oreganic Plus Mastic.
Oreganic Plus Mastic is the only worldwide product that combines the essential oils of organic Greek oregano and Chios Island mastic tree resin. Both essential oils have many parchments as natural remedies, considerable evidence for centuries, especially in the Mediterranean. There is also a growing body of in vivo and in vitro research highlighting the effects of oregano and mastic oil on dealing with viruses, bacteria, inflammation, parasites, and fungi and protecting the cell's health.
Biological oregano of the variety Origanum Vulgare spp hirtum and Chios mastic (Pistacia lentiscus var. Chia) are the best of their kind. The dilution oil is Greek extra virgin olive oil, an international product that holds the reins in healthy eating. So, there are three gold liquids together with verified nutrition and health value.
The innovation 
In the Physis & Ideas lab, extensive studies are done on oregano's essential oil and its interaction with other oils of pure, high standards herbs. Oregano oil phenols have been shown to interact with their mastic oil counterparts in a way that enhances their action (1+1>2). It's like they were "made for each other"!
Greek oregano and Chios mastic have been used since antiquity, dried or as decoctions and oils for various ailments. With the safe and gentle steam distillation method, both oils retain their excellent properties and give a pure product without chemicals or artificial flavors. Oreganic Plus Mastic is non-GMO, gluten-free, allergen-free, with no salt, sugar, sodium, soy, wheat, dairy, magnesium stearate, sweeteners, colors, and preservatives. 
Carvacrol, the principal, powerful compound of the product, is above 80%. Oregano Plus Mastic is innovative for three reasons:
1. The combination itself makes an effective booster for the immune and digestive system
2. Each essential oil proportion has been carefully calculated for everyday use 
3. Capsules are separated in a hygiene pack blister, easy to use, and comfortable to carry
And something more! The mastic essential oil also acts as a calmer for the potent oregano essential oil. That makes the blend smoother for the stomach and more appropriate for kids that can swallow.
"Our concern is creating excellent quality Greek products from carefully selected suppliers and stringent quality control criteria," says Physis & Ideas manager Lazaros Savvidis. 
More information about Oreganic Plus Mastic here. 
To take advantage of the acquaintance price, contact here
These statements have not been evaluated by the Food and Drug Administration. This product is not intended to diagnose, treat, cure or prevent any disease
Media contact
Dimitrios Savvidis
e-mail: d.savvidis@physisideas.gr
Phone: 9086525684
Source :
Physis & Ideas

Business Info :
PHYSIS & IDEAS
SINDOS INDUSTRIAL AREA (14)
THESSALONIKI, THESSALONIKI 57022