AccuSystems Unveils Reimagined User Interface for Its Document Management System, AccuAccount
New user interface makes it easier for banks and credit unions to manage commercial loan documents.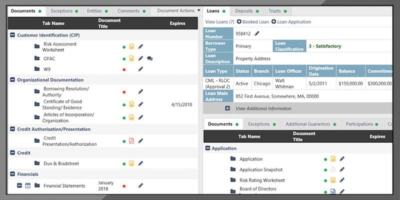 Press Release (ePRNews.com) - PUEBLO, Colo. - Apr 18, 2018 - AccuSystems, LLC today announced availability for AccuAccount 2018, which includes a completely reimagined user interface. The new UI offers an enhanced look and feel for end users, making it easier to manage customer information, scan and index important documents, and reduce exceptions.
"AccuAccount 2018 marks a major milestone for AccuSystems," said Alan Wooldridge, President of AccuSystems. "We're excited to see the new version go out to our user base of more than 15,000 professionals at banks and credit unions."
AccuAccount is a document management system, designed specifically for the intricacies of managing commercial loan portfolios and credit files. AccuAccount integrates to more than 30 popular core banking systems, making it a flexible option for community banks and credit unions. In addition to offering a robust document imaging feature set, AccuAccount also simplifies document tracking and exception management, eliminating the need for manual ticklers and spreadsheets.
"Loan administrators in particular will appreciate the new layout of AccuAccount," Wooldridge said. "We've enhanced the system's color scheme, iconography, fonts, and overall organization to be more intuitive and reflect a more modern style."
Banks and credit unions also rely on AccuAccount for managing deposit and trust account documentation. AccuAccount's sister product, AccuDoc, which also recently received a user interface upgrade, offers bank-wide imaging for back office functions, such as accounting, finance, and human resources.
To learn more about the new AccuAccount user interface, visit: https://www.accusystem.com.
About AccuSystems
AccuSystems, LLC develops software products for North American banks and credit unions. AccuSystems serves a sizable sector of the financial institution industry, exceeding $100 billion in combined assets. Each day, more than 15,000 bankers trust AccuAccount to manage more than 2,000,000 loans and accounts. The company's products streamline workflow processes, and provide accountability and control to management while increasing productivity.
AccuSystems, LLC is headquartered at 3921 Outlook Blvd, Pueblo, Colorado 81008.
Source :
AccuSystems

Business Info :
AccuSystems
3921 Outlook Blvd
Pueblo, Colorado - 81008 United States
Phone: 800-950-2550
Website:
http://www.accusystem.com