Ace Home Offer Launches New Website To Help Home Sellers
Ace Home Offer unveils new website design helping home sellers get fast offers for their properties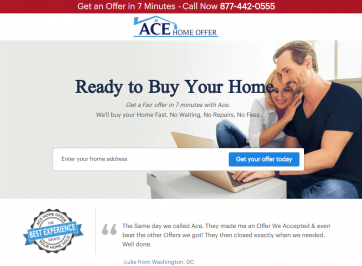 Press Release (ePRNews.com) - WASHINGTON - May 02, 2017 - The new user friendly site design launched by Ace Home Offer in April 2017 empowers homeowners to receive rapid cash offers for their properties, as-is.
The real estate investment company enables sellers to request an instant offer from a qualified home buyer. They can now receive an as-is cash offer in as little as 7 minutes. That requires no real estate agent commissions, no repairs to be made, and closings can happen in as little as 5 to 10 days.
The newly updated AceHomeOffer.com website provides the ability to either request an online quote from any mobile device, or to call in and speak with a live representative and local real estate expert. Ace currently buys homes in major markets in Florida, Baltimore, Maryland, and Washington, DC. Properties are purchased in any condition, and even with non-performing tenant occupants.
The Ace team is led by CEO and founder Raphael Vargas, along with his partner and COO, Joe Dillon. Other in-house team members are financial and local real estate market experts in the areas which the company acquires homes. Raphael says, "We are very pleased with our website redesign and the simplicity it offers homeowners," and "whether you are facing foreclosure, have inherited a home, have incurred major repairs you can't afford to fix, have a beautiful new home and want to relocate, or you just want to see how much your home is worth today, I'd encourage you to visit our site or call. You might be surprised at how much cash you can get, and how easy it can be."
Find out more about the firm, their process, and check out the redesign online at https://www.AceHomeOffer.com or call 877-442-0555 for an instant offer.
Source :
Ace Home Offer