Air Choice One Donates $1,000 To Jonesboro's Cityyouth Ministries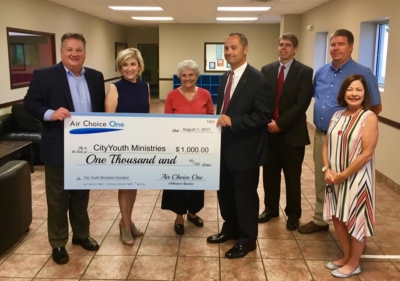 Press Release (ePRNews.com) - ST. LOUIS - Aug 08, 2017 - After a month long contest on the Air Choice One Facebook page, a local Jonesboro non-profit was chosen as the winner of the airline's first $1,000 giveaway. On August 1, Air Choice One presented Jonesboro's CityYouth Ministries with the check for $1,000 and was given a tour of the CityYouth Ministries facility. The Air Choice One charity program was created by the company to bring awareness to charities in each of their markets and to further their Mission of Service.
"It's important to us as an organization to give back to our markets and to get the community involved," said Shane Storz, Air Choice One CEO. "This was our first charity contest and it was exciting to see the feedback and shares from folks in the community. We had thousands of people vote and share the contest and we can't wait to host a charity contest in each of our markets. Over 5,000 people voted for CityYouth, it was incredible to see the community join together to support these wonderful nonprofits."
On hand at the check presentation was Shane Storz, Air Choice One CEO, Denise Snider, CityYouth Ministries Executive Director, Darlene Storz, Air Choice One Chairman of the Board, Randy Reynolds, CityYouth Ministries President, Mark Young, Jonesboro Chamber of Commerce President, George Jackson, Airport Director Jonesboro Municipal Airport, and Cari White, Jonesboro Chamber of Commerce Vice President and COO.
Other Jonesboro nonprofits that were in the running included CASA 2nd Judicial District-Arkansas, Family Crisis Center, Inc., Food Bank of Northeast Arkansas, Out of the Dark Inc. and Habitat for Humanity of Greater Jonesboro.
The next check stop for Air Choice One is in Decatur, IL and Burlington, IA. Voting for those markets ended on July 30th and the charity winners will be announced in the upcoming month.
About Air Choice One
Based in St. Louis, MO, Air Choice One was launched as a scheduled airline serving to hard-to-reach communities, and supports their economic development by increasing business productivity while enhancing the travel experience for business and leisure travelers alike. Air Choice One markets enjoy the benefits of efficient, scheduled airline service into larger cities, like St. Louis, Chicago and Minneapolis packaged in a "First-Class" service and seating format. Air Choice One's goal is to deliver the highest quality and reliability in scheduled commercial air service.
Source :
Air Choice One