America's Educational Leaders Can Learn From Finland's Montessori Child Educational Leadership
A forward look by Finland matches the 110 year-old teachings of Maria Montessori.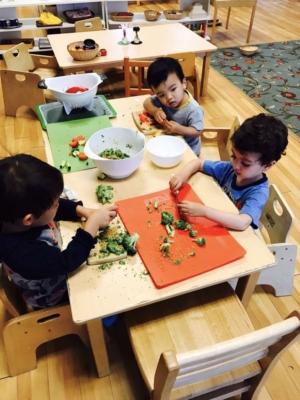 Press Release (ePRNews.com) - SAN DIEGO - Jul 10, 2017 - Finland is considered to have the finest educational system in the world. Below, a quick look provides specifics and how well their educational model matches with teaching strategies of 'The Montessori Child.'
Finland's Educational Model
"Finnish children benefit from early daycare and start school at age seven," says Zandre Campos in his article "Three lessons from Finland's education system (http://www.huffingtonpost.com/zandre-campos/three-lessons-from-finlan_b_11332254.html)." He says, "Compulsory school lasts only nine years. School days are shorter and student/teacher ratios are about 20/1. Homework is minimal and there are no mandated standardized tests." In his article, he also shares that the graduation rate is 93% from academic and vocational high schools—17% higher than in the U. S. and two-thirds continue on to college–and that education is spending is about 30% less per student than in the U. S., while tuition is free to all.
How Finland's Model Matches and Differs From The Montessori Toddler, Preschool and Child Model
• Both Finland and Montessori philosophies let kids play!
• Finnish students have only three to four classes daily. They have several breaks and recesses of 15-20 minutes each day.
• Individual attention to the student rules in both models – In Finnish elementary schools, students often have the same teacher for up to six years, allowing teachers to know each student's needs and learning styles. Within their system, collaboration and positive reinforcement is part of the daily plan.
• Student collaboration and interaction is emphasized in both models – Montessori children are prepared to learn how to learn rather than learning how to take and pass a test.
• A broader, interdisciplinary curricula is incorporated into both models –
"Instead of single-subject classes, the Finnish approach is to blend subjects that lend meaning in a more integrated fashion to better understand future global challenges," says Rebecca Klein of the Huffington Post (http://www.huffingtonpost.com/2015/03/28/finland-educatio…).
As a result, students are being taught to apply their skills within multiple contexts rather than just math or music or other single subject strengths. This approach is also highlighted via The Montessori Method, where Montessori elementary students learn conceptually from 'Five Great Lessons.' This integrated curricula teaches concepts that flow from a general understanding of the world into a detailed breakdown of science, nature, math, communication and the arts. Montessori schools are focused on conceptual ways to engage and empower children to choose and learn what works best for them.
Re-Form School, Not Reform School
"America's educational system was formed nearly 200 years ago during our agrarian and farm society," Kristin Edwards, M.Ed., co-founder of Lifetime Montessori School (LMS) in Santaluz, says. "It hasn't been changed in all this time and it certainly has gaping holes in its very fabric."
Why?
"If you look into the black holes of our educational fabric, what you'll see are special interests that hinder our children at every turn," she says.
What are those glaring holes?
Laura Flores Shaw, former family therapist using the Montessori philosophy to create environments allowing children to thrive, describes the following special interests in her article entitled Montessori: The missing voice in the education reform debate (http://www.huffingtonpost.com/laura-flores-shaw/montessor…):
• Textbook publishers
• Test preparers and publishers
• Teacher's unions
• Federal laws and guidelines.
As a result of these embedded interests that keep the status quo humming and the money pouring out, some of our children circle the drain of the hole. Some students excel, most do average and most are just taught in ways that don't focus on how they learn. This last group—children who may show social, emotional or behavioral issues–gives up early on rote learning and begins a cycle of truancy, disruption and crime. The result: remedial education or 'reform school.'
"Public schools get it but are increasingly unable to get it turned around," Edwards says. "And at every turn, if it's not teachers seeking to be paid what they are worth, it's our legislators insisting we must learn to standardized tests. The best teachers sacrifice to teach or go where the money is and where legislation and public schools can't—charter schools, parochial schools or private schools like ours.
"Then, compounding the problem for public schools, voters refuse to increase their taxes to pay for it all because it's not working. Rich kids get the best and poor kids get no art, drama, music, theatre and athletics—plus a second string education."
The result: lifelong learning and curiosity are drummed out early in favor of doing well on tests from the Otis-Lennon in Fourth Grade to the SAT and CA Exit Exams in high school.
Summary
Certainly, Finland is not America. Its economy ranks 41st in the world; California itself ranks sixth. Its population of 5.5 million Caucasians would comfortably fit within Greater Los Angeles and its landmass within the state the California. The country's $15 billion annual education budget is seven times less than California's public school K-12 budget.
So, the differences are massive. Still, the results speak for themselves.
Finland is considered to have the best educational system in the world. But, America would do well to attempt re-forming its own house.
Given the similarities between the Finnish model and those we use teaching Montessori children, certainly the Montessori Method should be considered when seeking large-scale public school reform.
Or, simply your consideration to enroll your child with us.
Lifetime Montessori School is located at 14727 Camino De La Luna in Santaluz in mid-San Diego County. The school serves 180 students aged eighteen months to nine years in toddler, preschool and elementary school classes. Celebrating its 10th Anniversary, LMS is recognized as a leader in teaching the Montessori Method to foster lifelong learning and curiosity. To tour the school, visit:
https://lifetimemontessorischool.com/free-tours or call 1-858-759-0631.
Source :
Lifetime Montessori school