AppClues Infotech – a Standard-Bearer in Mobile Development Services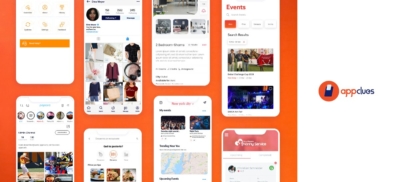 Press Release (ePRNews.com) - Feb 01, 2021 - In a fast-evolving IT market, innovation and quality work is what speaks out loud for AppClues. AppClues Infotech delivers cutting-edge software-oriented solutions to businesses of all scales and industry. They are the intermediary between your software requirements and those transformations that help you stay ahead of the curve.  
In their illustrious tenure as the most sought-after Mobile Application and consulting firm operating in North America, Europe, etc., they have had the pleasure of working with businesses of industries such as Education, Healthcare, Fintech, Logistics, Social Networking, Retail, Real Estate, Hospitality, etc. At AppClues Infotech, they spearhead the use of the best technological frameworks and tools of the trade that will yield an ROI for your business. They exhibit mastery over the most in-demand mobile development services that include native iOS and Android development, cross-platform mobile app development, enterprise app development, m-commerce, and wallet app development. 
In order to dispense these services, they have built up their enterprise as a hub for progressive mobile development with specialists who cumulatively add years of experience in various languages and have served across a heterogeneous mix of industries. They have experts in technologies such as Swift iOS, Objective C, Kotlin, Ionic, Flutter, React Native, etc. to tailor client-specific solutions for the aforementioned platforms. Their backend technologies include Node, PHP, Python, .Net, and Ruby.
At AppClues Infotech, they have ensured that they grow proportionally to the prevalent technological trends in mobile app development. Their expertise lies in Wearable, Chatbots, Artificial Intelligence, and Machine Learning, Big Data Services, Cloud Computing (AWS), AR/VR, IoT, and digital pay-wallets. 
Client-centric business models
AppClues Infotech was founded with the belief that software development must be fluid to the needs of the owner and the user. Hence, they reflect that in the client-centric business model that allows them to disburse ad hoc app development services in the truest sense of the phrase. As a result, their clients can rely on their services and retain them for post-deployment support and maintenance. 
How did AppClues adapt to the COVID-19 pandemic lockdown scenario?
The COVID-19 pandemic lockdown has been an eye-opener on global scales. Numerous businesses suffered a loss in productivity, and revenue as their working model failed to live up to the infrastructural requirements necessitated by the lockdown. Thankfully, due to the foresight and ingenuity of their productivity model, AppClues' developers have been able to dispense their vital technological services.
Adapting to remote working
Adherence to client-oriented timescales
Effective communication 
Ownership to deadlines
The fine-points above are critical in ensuring that their commitments to clients remained steadfast as ever. In the last couple of years, they have grown two-folds and extended their family of team members. Thanks to the proliferation of their offices from India to those in the USA, UK, Canada, and Australia, they have a veritable army of experienced mobile development specialists dispensing specialized services across the globe.
APPCLUES INFOTECH:
CONTACT: https://www.appcluesinfotech.com/contact-us
PHONE: +1-978-309-9910
EMAIL: info@appcluesinfotech.com
Source :
AppClues Infotech

Business Info :
AppClues Infotech
3, Erie Street
Selden, NY 11784