Art Lovers Throng to See the New Art Works During 'Talent Empowered' from Feb 26 to Mar 5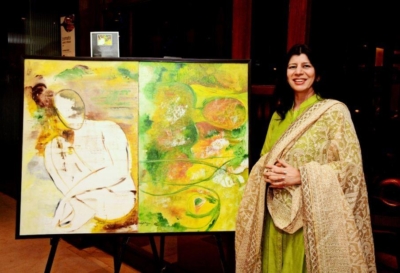 Press Release (ePRNews.com) - NEW DELHI, India - Mar 01, 2017 - Art Lovers Throng to See the New Art Works During
"Talent Empowered" from February 26th to March 5th
at ITC Sheraton Hotel, New Delhi
The ITC Sheraton, New Delhi, is exhibiting new and unique artworks 'Talent Empowered', by Delhi-based artist, Ritu Lamba along with 2 other artists, Sheetal Singh and Baroda based, Nipun Kumar Shah, who have together presented several facets and perspectives of art.
Vikram Sethi, the curator of the ongoing art exhibition, 'Talent Empowered' recently won the Business Eminence Award last week for the 'Best Art Curator of 2016'. He also won the Bharat Nirman Award 2015 for the best art curator for his talent to bring together talented and emerging artists and promoting them.
Artist, Ritu Lamba expresses her view, "Art for me is an expression of love, light and beauty. It gives life to my imagination; something I hold close to my heart becomes a creation in the material world. It is for me a celebration of life through different hues and forms. The main medium for me remains oil as it blends better and has rich colours and moods even though I experiment with other mediums as well. Having studied at the Palin School of Art & Design, Singapore, I gained a much better understanding of colors and the use of light. My inspiration comes from everything around me, which culminates into imagination with no boundaries. It could just be a black and white dream I'd like to see in color, or capturing a moment, or my state of mind at that point in time."
Artist, Sheetal Singh also shared her perspective, "As a contemporary artist I work with mixed media collage and acrylics, acrylic skin assemblage, textures and mosaics with my base being canvas, acrylic sheet and ply board. Still life is my favourite style involving the European Baroque interiors of the 17th and 18th centuries. The ornate detailing gives me great scope to experiment."
The inauguration of the art exhibition, 'Talent Empowered' was a glittering affair with art aficionados, art collectors, celebrities, socialites, opinion leaders, media and corporates appreciating the works of art on display. Those present included, Actor, Mukul Dev; Jewellery Designer, Lavina Bhatia; Fashion Designer and Beauty Pageant Impresario, Chand Bakshi; Chairperson of Luxury Committee, Indo American Chamber of Commerce, Aruna Sethi, Art Collector & Senior Marketer, Prodipta Sen, Socialites, Candy and Kaniskh Khullar, Curator, Vikram Sethi and Author, Ajay Garkal, among many others.
The exhibition is on display at The Sheraton Hotel, District Centre, Saket, New Delhi till March 5th from 10 AM to 8 PM at the Lobby level as well as the entire area surrounding Pan-Asian restaurant. The entry to the exhibition is free.
For Additional Information: PR Grid – Jitendra Parmar
Tel: 911141431044, 41431455, 9818410072
Source :
PR Grid