Avail Dental Exit Advisory Services Announces Retired CFL Star, Matt Dominguez As Associate Broker For Saskatchewan Dentists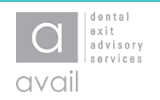 Press Release (ePRNews.com) - Alberta, Canada - Jun 18, 2018 - Summary: Avail Dental Exit Advisory Services plans expansion into Saskatchewan with new partnership and appointment of Associate Broker – Saskatchewan, Matt Dominguez. With the growing demand for a local "hands-on" dental broker in the Regina area and across the province, Darren Shanahan welcomes retired CFL receiver(Saskatchewan Roughriders) to continue to bring specialized advice, practice valuations, and experience to the dental marketplace with a local presence.
With the continued growth of Avail Dental Exit Advisory Services through the province of Alberta, it was only a matter of time before they would expand across Western Canada and add a dental broker in Regina. The company provides dental brokerage services including but not limited to: practice valuations, practice sales, buyer representation, valuation reviews, transition consulting, partnership planning, and business planning.
Avail also offers seminars and training for dental groups, study groups and is a valued industry expert and speaker at many events. Founder, Darren Shanahan, brings a wealth of sales, financial, management, leadership, and transition counselling to the marketplace due to his extensive financial and banking background. Along with his team, Darren has been continually raising the bar in the dental brokerage industry.
Matt Dominguez joins the growing team at Avail with over 9 years working in residential and commercial real estate, starting when he was still playing football with the Saskatchewan Roughriders. After he retired, Matt then expanded his real estate knowledge into residential, commercial and farm industries, receiving his Broker designation.
Matt will be a great fit with the Avail team as he understands the rewards of hard work, working with integrity and professionalism, and he is looking forward to serving his past, present and future clients with all of their real estate needs.
The dental brokerage industry has gained a trusted advisor and team player in Matt Dominguez and Avail Dental Exit Advisory Services was pleased to officially welcome him as an Associate Brokeron January 23rd, 2018 at their Wine & Business Wellnessevent in Regina, Saskatchewan.
Dentists looking to buy or sell a practice are encouraged to reach out to Avail Dental Advisory Services. Contact Avail for full details at 1-866-Go-Avail (1-866-462-8245).