Avail Dental Exit Advisory Services Celebrates 7 Years In The Dental Broker Industry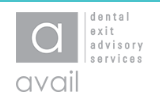 Press Release (ePRNews.com) - Alberta, Canada - Jun 13, 2018 - Avail Dental Exit Advisory Services comes into its 7th year as a Dental Broker and continues to serve clients across Western Canada with resources, training, valuations, practice transition, practice planning and dental business consulting. Founder, Darren Shanahan reports they are celebrating by adding a new Associate Broker, more transition experts and key supporting team members to better serve Dentists who are selling their practice as well as those looking to expand their legacy.
As the baby boomer generation of dentists continue to plan their exit strategy from their dental practice, Avail Dental Exit Advisory Services celebrates 7 years in the dental broker industry bringing exceptional world-class support and service to clients. To maintain their reputation of innovators and leaders in the industry, Avail Dental's dental broker services are expanding across Western Canada with the addition of new associates as well as new training topics and resources for dentists who are looking to put their practice up for sale.
Darren Shanahan reports, "We are grateful for the support of our clients as well as other supporting dental industry professionals as they have fueled the demand for our expansion – there's no better way to celebrate starting Avail Dental in 2011 than to continue to raise the dental brokerage industry standards for our clients and meet each of their unique needs during their practice transition so they can focus on what matters most to them in their lives and let us take care of the rest."
Many doctors have sung the praise of Shanahan and his team at Avail over the years, many who have recommended Avail to colleagues after their experience working directly with them, sometimes on more than one transaction. "The greatest compliment we can receive from a dentist or medical professional that we are working with or have worked with in the past is for them to refer other dentists in need of dental broker services to us directly. After 7 years in the dental broker industry, the community gets to be quite a tight knit group who look out for each other – we are proud to be a part of that process, assisting dentists with their legacy while we continue to build ours."
Since its inception, Avail has also regularly contributed back to their community by supporting a number of local and international charities including but not limited to: The Alex, Western Canada Dental Society, Change For Children, The Tooth Fairy Children's Foundation, Habitat For Humanity, Mercy Ships, and Kindness In Action.
As Avail Dental Exit Advisory Services celebrates its 7th year in the dental broker industry, Shanahan reports, "The best part is, we feel as though we are only just getting started in all that we want to accomplish and the best is yet to come!"
For more information about Avail Dental Exit Advisory Services' dental broker services visit: www.AvailDentalAdvice.com or to contact Darren Shanahan and his team directly with confidential questions, call 1-866-Go-Avail (1-866-462-8245).