BARRINGTON ACQUISITIONS OFFERS TO BUY YOUR HOME FAST
No fees, no commissions, but fair bids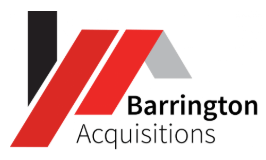 Press Release (ePRNews.com) - Acworth, Georgia - Dec 24, 2018 - With potential interest rate hikes on the horizon, Barrington Acquisitions is stepping forward offering homeowners in Atlanta and Charleston the opportunity to sell their properties fast – and the chance to beat the real estate's agent route.
The family-owned and operated real estate investment company is offering to buy houses at a fair price – with no commissions, fees or obligations to the seller.
Having several years' experience and a fourth-generation real estate agent in the region, Barrington Acquisitions (https://sites.google.com/view/barrington-acquisitions-ga/home) founder Parker Stiles said: "We focus on offering homeowners win-win solutions.
"All the hassle of the traditional real estate agent listing process typically delays a quick home sale by months, and after paying the agent's expensive fees and monthly homeowner expenses, it is uncertain if they will be better off listing with an agent."
With offices in Charleston, SC., and Atlanta, GA., he is offering a four-step approach for sellers to discover whether their home fits the buying criteria of Barrington Acquisitions.
If the home fits the brief, then he will present a fair offer in writing, and there is no obligation to accept the offer. If approved, the property can be sold in as little as ten days.
Mr Stiles commented: "In Georgia, as with many other areas of the US, we're still experiencing a 'hot economy'. The unemployment rate is down to 3.7%, the lowest for about half a century.
"But what tends to happen next involves interest rate spikes. We have already started to see this, and some say it could reach the low fives by early 2019. This could put many buyers on the back seat.
"Inventory has been on the rise, with about 25,000 new listings added in October alone, to the national market. This can help cut down bidding wars and multiple offer scenarios, but at the same time, hurts the buying power of those parties involved.
"If these trends continue, I see inventory increasing, buyer demand decreasing, and listing prices continue to fall."
He added: "We'll know very quickly if we can help clients, and unlike selling through the traditional real estate agent listing process, they don't have to wait and hope a buyer can get financing. We're ready to buy houses right now with an all-cash offer.
"We have vast experience buying houses in all conditions even very hard to sell ones. Selling to a local Atlanta cash buyer is a smart decision if the house needs repairs that you can't pay for, or even if the house has a significant fire or water damage. We can even buy a house that is vacant or isn't habitable."
So if you need to sell your house fast, contact Barrington Acquisitions on 678-909-1561
or email: barringtonhomebuyers@gmail.com