Beachfront Subdivision for Sale in Belize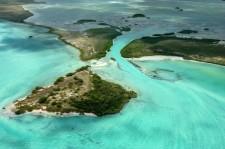 Press Release (ePRNews.com) - Ambergris Caye, Belize - May 23, 2017 - Paradise at the point! The Balam Escape is a tropical retreat that reflects the magical merging of nature and architecture. It is a magnificent oceanfront conglomeration of resorts, which serves as a haven for tourists and retirees who enjoy living among pristine natural beauty and who are also interested in having a healthier and adventurous lifestyle.
This stunning paradise estate spans a total 1,000 acres and comprises 3 resorts that contain 1,000 rooms total and with 4,000 dwelling units (villas and condominiums), all uniquely embodied in a masterpiece of nature, design, and craftsmanship.
Located in the tranquil environment of Belize, directly across the southern end of Ambergris Caye and completely shielded from the nauseating intrusion of smog and toxins; the Balam Escape is definitely the prime real estate opportunity for the proactive investor looking to buy property in Belize. It is a place where you can get tuned in with nature, where the scent of pine, flowers and the sea fill the air, and the bright rays of sun soothe your skin.
This right here is every investor's dream property, it features some of the best natural scenery in the southern end of Ambergris Caye and it represents a vision of a truly sustainable, carbon neutral and zero waste community. The views from the residences of the estate are truly unparalleled, with multiple vantage points providing sprawling, unobstructed 360 views of the surrounding ocean, lagoons, fantastic wildlife, and the inland jungle forest. The entire area is so calm and peaceful during the day and you can hear the faint rumble of the ocean waves all through the night.
Offered up for sale by the renowned and widely acclaimed Coldwell Banker real estate company, this exceptional piece of real estate is well immersed into the natural landscape of Ambergris Caye and it sits atop a subdivision with approval for 400+ oceanfront/waterfront lots, 2 hotel sites, 2 commercial lots and 2 condominium sites. It is only 10 miles away from San Pedro airport and can be easily accessed either by boat, road or air.
The environmental clearance of the property also has the capacity to accommodate up to 500 marina slips, an airport of up to 7,000 feet, a Green Technology Center, a 27-hole golf course, an art park, a host village, and several other possibilities. The surrounding area is rapidly developing and has become a major travel destination, and with the arrival of high-end multinational hotels and resorts, beachfront property prices in Ambergris Caye are looking to climb even higher in the very near future.
Some of the infrastructure soon to be completed on the property includes a large solar installation for power, a desalination plant for providing suitable water and a biodegradable Klargester system, which will be used for sewage. Power is currently being provided to the property from the main electricity line supplying Ambergris Caye and it is located just 5 miles away.
An existing road leads to the property and all the way to the ocean, and the Belize Barrier Reef can be accessed by boat, crossing the calm, protected waters of Ambergris/Chetumal Bay in less than 30 minutes. This is an incredible opportunity for real estate investors of all types — retired, second home investors, etc., to acquire this 1,000-acre beachfront subdivision with final approval and environmental clearance in place.
Its grand subdivisions draw you into a voluminous layout filled with lush green land, turquoise waters, and pristine untouched sandy beaches. You are engulfed by nature and submerged into a world of simplicity, leisure and non-stop environmental adventure right from the moment you step foot in the vicinity.
There's full access to the ocean, where you can engage in a range of interesting activities like snorkeling, scuba diving, fishing and island hopping, or you can play amateur archaeologist in the ancient Mayan ruins of Ambergris Caye. The population here is small but very diverse, with friendly English-speaking people, and the security is highly efficient. Over 200,000 tourists arrive in the area annually and there are thousands of foreign retirees already living here full time.
Tourism has been on a steady increase in Belize over the past 7 years by approximately 10% every year since 2010, and the year 2017 is expected to set another record high. Several airlines like West Jet, Southwest and Copa Airlines have also begun flying to Belize in 2016. The potential for growth here is truly astronomical, with lots of Americans discovering Belize and choosing here for their retirement destination.
Perfect for anyone, this property is ideally positioned to enjoy the true essence of nature and life in absolute relaxation. Take advantage of this great opportunity and let's help make Belize your best property investment decision.
Please contact agent for detailed plans and marketing material for the subdivision. Seller financing is available.
Fantastic opportunity for the right buyer.
Source :
Coldwell Banker, Ambergris Caye