Breast lift surgery –A boon for modern day women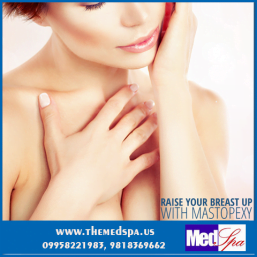 Press Release (ePRNews.com) - VASANT VIHAR, India - Mar 02, 2017 - There are several elements which contribute to the beauty of a woman's body. And, of all these, it is the breasts which are an integral part of her body. Female breasts are a symbol of feminism and beauty. Childbirth is one of the life changing events of one's life. However, along with it come several changes in the body as well. Breastfeeding affects the shape and size of the breasts.  Modern day women are aware of the importance of taking care of their breasts. A breast lift is one cosmetic procedure which has gained immense popularity in the last few years.  It helps in improving the body contour of a woman.
Medically known as mastopexy, it is a commonly performed cosmetic procedure which aims at removing excess fat, tissues and skin from the breast area bringing them back to their original position. This surgery resolves sagging or drooping of the breasts or breast ptosis. Ptosis of the breasts is a natural occurrence in the process of ageing of the female body. However, there are several other factors which contribute to this condition of breast ptosis. Breastfeeding and pregnancy are some of them.
Many women who are aware of the benefits associated with the breast lift surgery opt for it so that they can have an improved and better shape. Given the excellent results of the surgery, women experience boost in their confidence and self-esteem.  It is only when you consult a cosmetic surgeon that you get to know whether it will be performed as a standalone procedure or in combination with other surgeries. One thing you can be assured of regaining lost breast shape and size.
Dr. Ajaya Kashyap cosmetic, plastic & reconstructive surgeon in Delhi, India
#breastlift, #breastliftsurgery, #breastliftsurgeon, #breastsurgery, #mastopexy, #mastopexysurgery, #mastopexysurgeon, #cosmeticsurgeon, #plasticsurgeon
Get more http://www.themedspa.us/cosmetic-surgery/breast-lift-surg…
Get more http://www.bestbreastsurgeryindia.com/
OUR BLOG http://www.themedspa.us/blog/cosmetic-surgery/breast-lift-surgery-a-boon-for-modern-day-women/
Source :
Medspa Clinic