Brent Schafer and the Schafer Law Firm Reports Dentist Sued for Unnecessary Procedures on Young Patients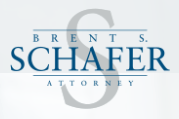 Press Release (ePRNews.com) - MINNEAPOLIS, MN - Jun 07, 2018 - In partnership with Hilliard Martinez Gonzales LLP, Schafer Law Firm filed a lawsuit on behalf of Rebecca Veibrock, her four children, and Lisa Vansomeren and her two children who suffered at the hands of Hudson, Wisconsin dentist, Dr. Andy Mancini.
The civil lawsuit, filed in Washington County Minnesota Court, details the mistreatment Rebecca Veibrock and Lisa Vansomeren's children received at La Petite Dentistry, including unfinished dental work, unnecessary teeth extractions, unfilled cavities, unnecessary caps, inadequate diagnostic testing and administration of anesthesia for various dental procedures.
"Hudson, Wisconsin had its own Joseph Mengele hiding in plain site. But, Mancini's motif was greed–each single procedure on each child was billable to insurance. Multiple procedures increased profits even more. Mancini disregarded the welfare of the child for the welfare of his wallet.
A pediatric dentist with a colorful, kid-friendly and inviting waiting room…drawing the children of Hudson in and then extracting their teeth for no reason, sometimes pulling as many as 11 teeth from one child's mouth during one visit with no medical justification; capping teeth with no medical justification; exposing children to dangerous and numerous x-rays without even covering them with protective lead aprons—sometimes taking the exact same X-ray 6 times, as insurance would pay him for up to 6 X-rays; and failing to use proper amounts of novacaine and hiding it by over-gassing kids with nitrous.
This would be every parent's worst nightmare except no parent would ever, in their worst nightmare, consider that their child's dentist would perform such horrendous acts on their kids.
"We are receiving calls day and night from parents of children who were traumatized by the negligent and harmful treatment of Dr. Mancini, owner of La Petite Dentistry and will be amending the lawsuit shortly to include at least 30 additional families," Hilliard says.
Case: 82-CV-18-2486, Rebecca Viebrock, Lisa Vansomeren vs Andy Mancini, La Petite Dentistry, Inc., Figero Crowns, Inc.
About Brent Schafer And Schafer Law Firm P.A.
The Schafer Law Firm, P.A was built on the desire to help those seriously injured who face enormous odds in their battles against the insurance giants and to provide clients with trustworthy and experienced criminal defense counsel. He is committed to treating each client with dignity and steadfastly protecting their rights. Mr. Schafer understands how stressful and uncertain the legal process can be. He works closely with clients, communicating often and providing emotional support along with quality legal representation.
Brent Schafer is the owner of Schafer Law Firm, P.A., located at 8646 Eagle Creek Cir Savage, MN 55378. With more than 23 years of courtroom experience, Brent Schafer knows exactly how to fight the criminal and DUI charges and to provide clients with trustworthy and experienced criminal defense counsel.
To learn more about Brent Schafer or to schedule an interview with him, please visit https://www.schaferlawfirm.com/