Car Models of Braidwood Has Updated their Website and Getting New Model Cars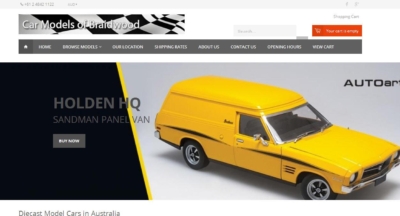 Press Release (ePRNews.com) - BRAIDWOOD, Australia - May 06, 2016 - Car Models of Braidwood, a staple in the diecast model car industry in the Braidwood area for over eighteen years, has recently updated their web page in order to cater to customers' needs in a much more efficient way. The web page has been streamlined in order to allow customers to browse their collection of model cars easily, and even place orders online.
The web page's update, however, does not mean that Car Models of Braidwood is online only. Car Models of Braidwood still has a physical shop and showroom, which boasts one of the largest collections of diecast metal cars in all of Australia. Their collection includes the most popular, and highest quality, brands on the market, including Biante, Hot Wheels, Classic Carlectables, Maistro, Cat, Revell, and many, many more.
Daniel Parsons founded Car Models of Braidwood over eighteen years ago, and they have built a brand that is known for the best quality and selection. Their shop is large enough to house all of the most trusted brand names when it comes to die cast model cars, and their sales force is trained to be able to answer any questions that customer might have for them. They are regularly adding new diecast model cars to their shop, which means any time a customer visits they are likely to see something new that they did not see before.
The updated web page now gives a new level of convenience to Car Models of Braidwood customers. It allows customers to browse the many different cars that are available for purchase in the shop, and even allows them to place orders online in order to have them shipped directly to their homes. This is something that allows customers who are unable to make the trip to the shop to still do business with them, although not all cars could possibly be shown on the web page. When online orders are placed, Car Models of Braidwood will dispatch the models within twenty-four hours.
The new web page just gives customers more options when it comes to expanding their model car collections. Customers who wish to visit the website in order to browse or place orders should visit http://www.carmodels.com.au. They can also call Car Models of Braidwood directly at (02) 4842 1122. The shop and showroom is located at Shop 4, The Village Terrace, Batemans Bay Rd, Braidwood, NSW.
Source :
Car Models of Braidwood