Casio Partners with Legendary Graffiti Artist STASH
Casio Partners with Legendary Graffiti Artist STASH on G-SHOCK Limited Edition Collaboration Watch New GA-100 Model Features Original Splash Pattern and Unique Spray Can Packaging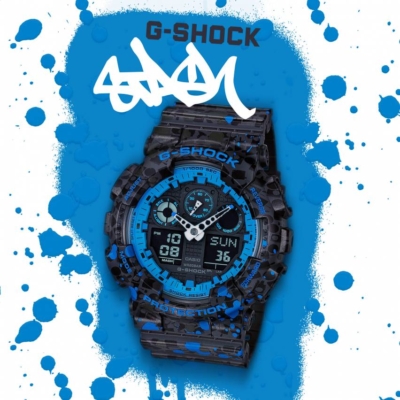 Press Release (ePRNews.com) - Aug 16, 2017 - Casio Computer Co., Ltd. announced today the release of the G-SHOCK brand's watch collaboration with legendary New York street artist, STASH.
G-Shock fans and famous social media personalities / influencers attended an event held on 11th August 2017 in Virgin Megastore in Jeddah organized by the official distributor, Mehmood Saleh Abbar Co. During the distributor announced the launch of GA-100ST watch in the Saudi market.
The limited edition model boasts a black-on-black print of aerosol caps on the band and case, over which a blue splash pattern was applied, designed exclusively for G-SHOCK by STASH. The GA-100ST will also come with a one-of-a-kind spray can packaging featuring STASH's unique logo.
An avid G-SHOCK fan since the late 1980s, STASH will breathe new life into his signature graffiti design through this first-ever partnership with G-SHOCK. "The community embraced G-SHOCK way early on because of the style, the ruggedness," said STASH. "They started in the early 80's so they have a history and a legacy that has always resonated deeply with me."
The GA-100ST comes equipped with the shock resistant and 200M water resistant structure that G-SHOCK is renowned for, as well as magnetic resistance, an auto LED light, world time (48 cities + UTC), 5 daily alarms with 1 snooze, 1/1000-second stopwatch, a speed indicator, countdown timer, and 12/24 hour formats — all in a 51.2mm case.
GA-100ST
Stash was born in Long Island, New York in 1967. He is considered one of New York's graffiti legends, pivotal to the East Village scene of the early 1980's. He exhibited his first canvases alongside pop art pioneers Keith Haring and Jean-Michael Basquiat when he was only 17. While his contemporaries turned to Pop Art, Stash stayed true to the subway, working on trains until 1987 when he created his last underground piece alongside Zephyr. His early works on canvas demonstrate a loyalty to his early career in the use of subway mapcollages and signature bold outlines and clean shapes. By the late 1990's, Stash had pioneered the use of graphic elements of graffiti on streetwear through high-profile collaborations with companies such as Nike, Burton, Medicom toy and A Bathing Ape. The move ensured his work reached a much wider audience than the gallery visitor and played a key role in the widespread understanding of and eventual public acceptance of graffiti. Stash is now widely regarded as an innovator in the world of urban design. His fascination with the urban environment is evident in his perfectly executed photographic work, which features a combination of city motifs alongside the latest lighting and printing techniques.
Source :
comma