ChiroSpring Practice Management Software Named Best Cloud-Based Chiropractic Software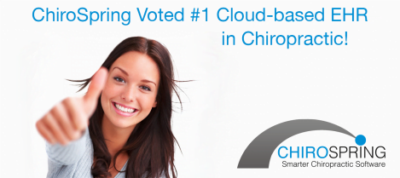 Press Release (ePRNews.com) - DAVENPORT, Iowa - Feb 16, 2017 - ChiroSpring chiropractic practice management software has recently been named Best Web-Based Chiropractic software by ValuePenguin.Com. After unbiased, professional reviewers performed a thorough interview and analysis of software, support, and training materials for the chiropractic industry's top software options, ChiroSpring was recommended as the Best Cloud-Based Software available. ChiroSpring's all-in-one software is lauded for its intuitive, easy-to-learn interface, cloud-based access on Macs, PCs, and tablets, extensive customization capabilities, superior customer service, and multi-location support.
"It's really an honor to be recognized by such a trusted source as the chiropractic industry's best cloud-based software," CEO Brian Albery said. "ChiroSpring is designed by chiropractors for chiropractors. So with every decision made, every feature designed, and every support call answered, we are constantly driven by the singular goal of providing doctors and their staff the smarter, more intuitive software experience they deserve. That's why ChiroSpring is so effective at maximizing a clinic's efficiency and improving their financial bottom-line. It's wonderful that the industry experts at ValuePenguin also recognize the incredible benefits that our customers have been raving about for years."
Throughout their detailed review, ChiroSpring's value and pricing were also listed as highlights. The fully-integrated system means that every ChiroSpring customer has access to every feature, with no additional modules or programs that need to be purchased. ChiroSpring consistently provides new features in their free software updates, so there's never any additional cost to "upgrade" your system. ChiroSpring's transparent, up-front pricing is also praised, as doctors enjoy low start-up costs, competitive monthly pricing, no long-term contracts and no hidden charges.
ValuePenguin's review and recommendation of ChiroSpring can be found at: https://software.valuepenguin.com/chirospring. ValuePenguin provides unbiased, in-depth software reviews aimed at helping chiropractors make smart practice management decisions. ValuePenguin's trusted analyses have been featured on major media networks such as CNBC, FOX Business, Politico, USA Today, and Yahoo Finance.
ChiroSpring practice management software is available now to help doctors save time and money in efficiently managing their practice. To learn more about ChiroSpring, please visit www.chirospring.com or call 888-426-0007.
Source :
ChiroSpring