Clavax is awarded ISO 27001:2013 security accreditation
The handout is released to announce the achievement of prestigious ISO 27001:2017 certification for information security management. It demonstrates our ability to maintain integrated process approach to meet information security standards.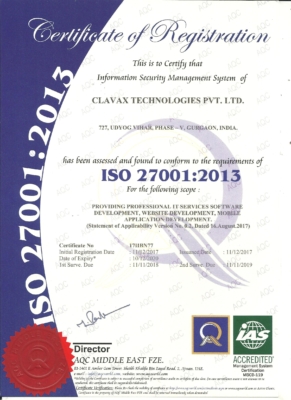 Press Release (ePRNews.com) - California - Dec 21, 2017 - Clavax Technologies, one of the preeminent IT consulting service providers proudly announces that it has been awarded the prestigious ISO 27001 certification on 11/12/2017, for its information security management system in accordance with globally recognized standards. With this certification, Clavax has assured its highest commitment to protecting their client's information and continuous improvement.
ISO 27001:2013 demonstrates a complete suite of activities including the management of security risks. It allows Clavax to analyze, address and fine-tune security arrangements which provide a strong endorsement of data security packages. The certificate covers comprehensive quality management standards ensuring each process is conducted under controlled conditions. Moreover, it showcases our ability to constantly provide products and services to meet customer's requirements and satisfaction.
The Chief Technology Officer of the Clavax, Deepak Tomar stated the following regarding the latest achievement: "Securing ISO 27001:2013 certification assures our commitment to robust security techniques and risk management solutions. With this accreditation, our clients can trust that we not only identify security threats but also respond them appropriately to keep their critical information safe and secure. At Clavax, we provide a quality arena ensuring a process-oriented approach is followed at every step to serve our clients right."
To stay updated on the latest news about Clavax, visit our website http://www.clavax.com or email us at info@clavax.com.
About Clavax :
Clavax Technologies is the illustrious IT company based in San Jose, California. Right from the launch of the organization in 2011, the organization has focused on offering the best-in-class technology solutions to the clients. Clavax invests heavily in modern tools and software whilst supporting a business model that strives to deliver an amazing and credible experience to their clients.
Source :
Clavax