COVO, Design-Forward, 'Small-Lot' Homes Open in Silver Lake
Modern Design Includes Rooftop Decks and Views; Model Grand Opening, Saturday, April 22nd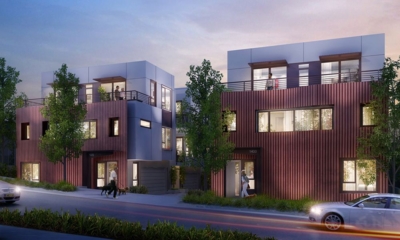 Press Release (ePRNews.com) - SILVER LAKE, Calif. - Apr 18, 2017 - Planet Home Living has unveiled COVO, a collection of 10 sleek, small-lot homes in the heart of Silver Lake. The community includes a new, fully-furnished model home set to grand open on Saturday, April 22nd and is open "by appointment only" prior to the grand opening.
"With its modern design and desirable location close to everything – yet hidden on a quiet street in Silver Lake – we are already experiencing high demand at COVO," said Planet Home Living CEO Michael Marini. "The response is similar to what we experienced at Prism in nearby Eagle Rock, where homes sold out in a matter of weeks."
Both communities are designed by international award-winning KTGY Architecture + Planning. KTGY has more than 900 homes in various stages of construction developed under the Los Angeles Small Lot Ordinance, which it helped to formulate with the City of Los Angeles.
COVO is a community of structurally independent, detached single-family residences. With no shared walls, the homes strike an ideal balance for home buyers who seek spacious, eco-friendly living that is easy to care for and close to where they work and play. The location near Sunset Blvd. puts owners in the heart of Los Angeles' thriving urban core, close to boutiques, restaurants, nightlife, markets and recreational opportunities at the nearby Silver Lake Meadow and dog park (adjacent to Silver Lake Reservoir). At the same time, COVO is nestled on a quiet residential street. Echo Park is nearby and it's a quick commute by car or public transit to Downtown L.A. The entertainment hubs of Burbank, North Hollywood and Studio City are easily accessible.
Planet Home Living is a forward-thinking builder that understands the complexities of urban infill development and contextual design principles as well as the needs and lifestyles of today's buyers who want to own a single-family home but also live in an urban, amenity-rich walkable and established neighborhood.
Designed by KTGY Architecture + Planning, COVO seamlessly integrates with its desirable urban surroundings. Standout design elements include soothing colors and metal siding that combine to create sophisticated exteriors. The innovative floorplans emphasize elevated outdoor spaces – either large decks or rooftop terraces – all of which offer vistas of the surrounding hills.
"The metal siding adds an industrial-modern tone to the homes that will maintain its striking, 'rusted' patina over the years," said KTGY Principal Alan Scales, AIA. "As for the floorplans, the 10 homes distinctively maximize their square footage with open kitchen/living spaces and private indoor-outdoor experiences that capture the fantastic views, each in their own way. The whole community fits together like an intriguing puzzle."
Layouts offer 3 bedrooms, up to 3 1/2 bathrooms and approximately 1,860 to 2,000 square feet of living space. Each detached COVO residence features a rooftop deck or large balcony for relaxing alone or dining with friends. A ground-level bedroom may flexibly serve as office or studio space, ideal for professionals who work at home. Each home has an attached, private 2-car garage with direct home access and plenty of storage.
Prior to its grand opening date on April 22nd, COVO is open by appointment only on Waterloo Street in Silver Lake, Los Angeles. Pricing starts at $1,059,000 and the interest list is growing quickly. Stop by the grand opening on April 22nd or call today to schedule a private tour.
About Planet Home Living
Founded in 2007, Planet Home Living is a full-service real estate building and development company that is dedicated to the creation of unparalleled living environments. From conception to exit, Planet Home Living remains focused on the complete development of a project, which includes strategic acquisition, distressed workouts, land entitlement, design, bidding, construction and sales. Planet Home Living's passion is for environmental architecture that will stand the test of time. www.planethomeliving.com
About KTGY Architecture + Planning
Celebrating 25 years, KTGY Architecture + Planning is an international award-winning full-service architecture and planning firm delivering innovation, artistry and attention to detail across multiple offices and studios, ensuring that clients and communities get the best the firm has to offer no matter the building type or location. KTGY's architects and planners combine big picture opportunities, leading-edge sustainable practices and impeccable design standards to help create developments of enduring value. KTGY serves clients worldwide from offices located in Chicago, Denver, Irvine, Los Angeles, Oakland, Pune and Tysons. Visit www.ktgy.com
Source :
KTGY Architecture + Planning