D.R. Records Releasing New Michael Vescera Album, "Beyond the Fight"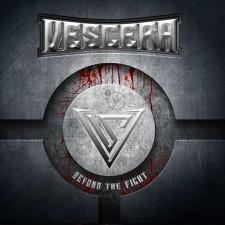 Press Release (ePRNews.com) - Los Angeles, CA - May 01, 2017 - Domo Music Group's subsidiary, D.R. Records presents Michael Vescera's new project VESCERA and new album "Beyond The Fight." Michael is a critically acclaimed American heavy-metal singer who has performed and composed music for numerous artists including Loudness, Obsession, Yngwie Malmsteen, Dr. Sin and Roland Grapow, as well as his own band.
Two Michael Vescera bonus tracks, "Soldier of Fortune" and "Seventh Sign/Crash and Burn", are available on iTunes on the EP titled Michael Vescera. These songs are cover tunes of Loudness (Soldier Of Fortune) and Yngwie Malmsteen (Seventh Sign/Crash and Burn Medley). The two bonus tracks are only available online worldwide through D.R. Records, as bonus tracks on the King Records release "Beyond The Fight" (for Japan only) as well as on the "Beyond The Fight" album release for Asia on May 24th, 2017.
Michael will be touring Europe in May with his band VESCERA. Michael released an album in October of 2016 through Walt Disney Records that contained Metal versions of classic Disney music. The project received positive reviews in Rolling Stone and on Nikki Sixx's radio show. Three tracks from that release charted on Spotify's US Viral charts (as of April 13th 2017), "Under The Sea" peaked at #9, "It's A Small World" at #17 and "Mickey Mouse March" at #23. Sony Music Japan will be releasing Animetal USA in early May with Michael on vocals. The outstanding artist has also signed a worldwide deal with Pure Steel Records.
Vescera's 'Beyond The Fight' features the Ex-Nitehawks musicians Mike Petrone, Frank Leone and Fabio Alessandrini. The production is superb Metal with a heavy edge.
In addition to being a vocalist, Michael is also as a talented record producer who has his studio "The Toy Room" in Nashville Tennessee as well as a satellite studio "Toy Room North" in Milford, Connecticut. 
"Soldier Of Fortune" and "Seventh Sign/Crash And Burn" available now at iTunes:
https://itunes.apple.com/us/album/michael-vescera-single/id1226783847
2017 Michael Vescera Tour Dates:
May 4                        Barcelona, Spain
May 5                        Palencia Spain
May 6                        Oviedo, Spain
May 7                        Madrid, Spain
May 9                        Valencia, Spain
The Band:
Michael Vescera – vocals
Mike Petrone – guitars 
Frank Leone – bass 
Fabio Alessandrini – drums
www.facebook.com/michael.vescera.1 
www.domomusicgroup.com
#   #   #   #
Media Contact: handsonpr@aol.com
Source :
D.R. Records