Damas Turk Real Estate Company Offering Real Estate Investment in Turkey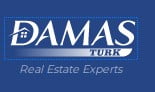 Press Release (ePRNews.com) - Istanbul, Turkey - Jul 11, 2019 - Damas Turk Real Estate is a real estate company that aims to provide real estate services to their clients in Turkey. The company is among the leading real estate company's in Turkey. They offer cheaper real estate projects to their investors who would want to attain high returns on their investment. Due to the company's experience in the real estate sector, their clients can get the best available investment opportunities in Turkey. The Company also offers free and impartial real estate consultancy services.
Responding on an inquiry on why investing in real estate in Turkey is a great idea, the company spoke person commented, "Turkey has been ranked as a country with the thirteen largest economies in the world, dictating that the country is a great place to invest in. Also, the cost of living in Turkey for foreigners is relatively cheap as food, utilities, and transportation are remarkably affordable making it a great place to invest in real estate."
Damas Turk Real Estate Company is a real estate company that has been in the top bracket since the year 2004. Turkey, in recent years, has become the destination for foreign investors in real estate investment. The company offers the best season real estate offers to its clients through a vast and unique base of their real estate projects. Damas Turk is registered by the Turkish government, therefore, the company does not deal with any other real estate development company that has not acquired an official license from real estate project municipal council. This is to ensure that we give our clients the best real estate opportunities that exceed their expectations and also our competitors. Therefore, Damas Turk aspires to gain the trust of all investors in the real estate sector.
Offering insight on how one can obtain Turkish citizenship by investing in Turkish real estate, the company spokesperson explained, "The amendment of the Turkish law on citizenship has reduced the requirement for minimum investment. One can now acquire Turkish citizenship through investment in real estate with $250,000. However, clients are not supposed to transfer, or convert the amount for a minimum of 3 years. The Turkish government has also stipulated an easy process to acquire citizenship in the country."
Through Damas Turk Real Estate Company, clients can buy flat in Istanbul. Through the company, clients can buy homes in Istanbul alongside the beaches to accommodate the needs of the youth. Through Damas Turk, clients can purchase homes in Istanbul where prices are likely to rise in the coming years. Istanbul is the best for buying a home as many of its areas are undergoing renovations. There are also various real estate developments coming up that consist of apartments and homes at an irresistible price.
About Damas Turk Real Estate Company
Damas Turk Real Estate is a company that also offers Istanbul real estate for sale. The company aspires to remain at the forefront of Turkish real estate companies. It achieves this by introducing modern lifestyle concepts in Istanbul and other various places in Turkey. In so doing, it wants to establish current and smart residential complexes that contain all services needed by customers
Contact Details
Company name: Damas Turk Real Estate
Mahmutbey Mah. Tasocagi Yolu Cad.
Agaoglu My Office 212
No. 3/160 Basin Ekspress/Istanbul
Telephone: +90 555 160 5000
Email: info@damas.net
Website: https://www.damas.net
Consulting Department:
Mahmutbey Mah. Tasocagi Yolu
Cad. Agaoglu My Office 212
N0: 3/160 Bagcilar/ Istanbul
Mobile: +90 555 160 50 00
Telephone: +902128122480
Email: leads@damas.net
Marketing Department:
Mahmutbey Mah. Tasocagi Yolu
Cad. Agaoglu My Office 212
NO: 3/162 Bagcilar/Istanbul
Mobile: +90 555 160 50 00
Telephone: +902128122480
Email: marketing@damas.net
Sales Department:
Mahmutbey Mah. Tasocagi Yolu
Cad. Agaoglu My Office 212
NO: 3/396 Basin Ekspres/ Istanbul
Mobile: +90 5443467458
Telephone: +902128036882
Email: info@damas.net
Source :
Damas Turk Real Estate