Dana Group Dubai CEO, Dr Ankur Dana to speak at UAE India Economic Forum, DUBAI, UAE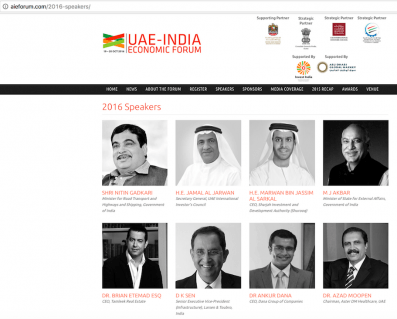 Press Release (ePRNews.com) - DIFC, UAE - Oct 13, 2016 - Dana Group CEO, Dr Ankur Dana http://danagroups.com has been invited to speak at the UAE India Economic Forum, Dubai 19-20th October 2016 at Madinath Jumeirah, Dubai.
The UAE – India Economic Forum is the definite platform for business leaders and government authorities to discuss and evaluate trade, bi-lateral relations, and investment opportunities between the two strong economies.
Mr MJ Akbar, Minister of State for External Affairs, India, Mr Nitin Gadkari, Minister of Road Transport and Infrastructure of India will be speaking at the event, and along with Dr Ankur Dana, CEO of Dana Group of Companies, the speaker lineup also includes Dr Azad Moopen, Chariman Aster DM Healthcare and Dr Daljit Singh, President of Fortis Healthcare.
Focusing on the out comings of the enduring partnership between UAE and India, the second edition of the UAE India Economic Forum is a step towards realizing the goal of $ 100 billion as the bilateral trade value between these countries by 2020, which has been forecasted as the potential that exists and can be achieved. The past edition of the event saw tremendous support from both the countries, bringing major investors and government leaders from both the countries under one platform. The 2015 event was inaugurated by Hon. Shri Arun Jaitley, Finance Minister of India, along with the presence of more than three hundred delegates from the C suite as well as Ministry and Government Officials, Presidents and business owners from UAE and India.
Dr Ankur Dana's brief bio:
http://aieforum.com/dr-ankur-singh/
Dr Ankur Dana is the CEO of Dana Group of Companies http://danagroups.com He joined DANA Group's Steel Trading & Coil Service division in July 2005, and was initially responsible for operations for the company. Since joining Dana Group, he has been instrumental in starting the Value-added Steel manufacturing division in Dana Group, and is also actively involved in strategic planning for Dana Group.
Prior to his experience in the steel business, Ankur completed his bachelors degree in medicine and surgery from India, and also practiced medicine for one year. Later on he also did his Executive MBA from Dubai. In 2005, he moved to Dubai with Dana Group and joined Dana Group's manufacturing division, and his passion for steel led him to head the Dana Group's steel division. Ankur's involvement in strategic planning for Dana Group has been critical for the long strides of success Dana Group has taken in the recent years. Dana Group's Steel division has now established manufacturing/servicing operations in UAE, India , Qatar, Libya nad representative/agent offices in Iraq, Bahrain, Saudi Arabia, Oman, Kuwait, Jordan, Egypt, Vietnam, Central America and many more countries across the Globe.
In the year 2008-2009,when the global recession struck UAE, Ankur was instrumental in steering the steel division of DANA Group amidst the rough economic climate. His strategic insights in "Value-Add" were instrumental in establishment of DANA group's Value Added Steel Product Manufacturing Verticals. With 4 factories in the UAE and 1 in India all these divisions are now processing more than 150,000 MT of Flat & long Steel annually and manufacturing products like roofing solutions (viz sandwich panels, profiles, purlins),pre-engineered building systems(peb),cable management systems(cable trays, ladders, trunking ),cold stores.
In the year 2014 he was also one of the key architects of DANA Group's foray in to the lubricants & greases manufacturing sector. Identifying a strategic acquisition of a running factory in UAE, was one of the key moves which helped catapult the growth of the Group in the Oils Manufacturing sector.
DANA Group is the leading stockist of flat steel products in the Middle East, and is well on its way to fulfilling its vision of becoming the world's most reliable and reputable steel manufacturer, service and solution provider. Apart from being the largest stockist for flat steel products in the UAE, Dana Group is also the leading manufacturer of Sandwich Panel, Fencing, Profiles, Cable Trays in the UAE. Dana Group has very diversified operations – steel, lubricants, retail as well as healthcare and hospitality.
Source :
Dana Group

Business Info :
Dana Group
Suite #19E Radisson Blu Hotel
Dubai, Dubai - 40743 United Arab Emirates
Phone: 4-2217273
Website:
http://www.danagroups.com