Dexlab Analytics is Hiring Eco/Math/Stats Professionals for Their New Noida Location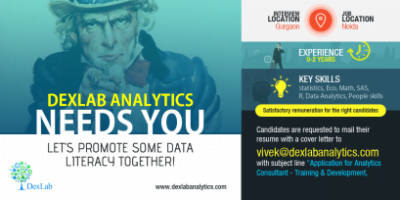 Press Release (ePRNews.com) - NOIDA NCR, India - Feb 10, 2017 - DexLab Analytics is finally all set to open their new branch in Noida, after their previous expansion in Pune. They will be hiring for professionals with knowledge in economics or math or statistics. The position they are hiring for is of Analytics Consultant (training and Development) at the Noida location. However, the interviews for the position are being held at their Gurgaon location.
The job description for this position will be to conduct training in analytics using R programming and SAS. Anybody with a good understanding of SAS and R is an added advantage. The personnel looking to be hired will be responsible for handling the training of corporate students and professionals from other field for handling various analytical tools and techniques. Many of the key tools which are being used in Business Intelligence are currently R programming, SAS, SPSS and VBA.
The incumbent will also be responsible for writing content and materials which are relevant to the training modules and about the latest developments in other technologies in the industry or for any new interesting venture that the organization may decide to venture into. Teaching experience is not mandatory as grooming for the same will be provided.
The company also stated that individuals who are promising in other related roles such as training, content development and research would be encouraged to pursue such areas of interest within other roles of the organization.
As per qualification requirements for the candidates, DexLab Analytics is looking to hire people with PhD, MPhil or MSc in the mentioned subjects of economics, statistics, and mathematics. B Tech degree holders may also apply. A minimum of two years of working experience is a must within the analytics industry, however, the criteria is flexible with proper grooming and training being conducted for freshly graduated individuals.
A few noteworthy pre-requisites for the role are:
· An understanding of BI Tools like SAS, R, SPSS
· A working knowledge of Advanced Excel (VBA Macros)
· A thorough understanding of Analytical concepts
· Basic Statistical Concepts- Descriptive Statistics
· Probability
· Hypothesis testing (t test, ANOVA, Chi square, Correlation)
· Factor Analysis and Cluster Analysis
· Linear Regression (Model Development and Evaluation)
· Logistic Regression
· Time series Modelling- ARIMA
· Excellent Presentation Skills
· Excellent Team Handling Skills
· Excellent People Skills
· Individuals who have consistent academic records will be given preference
· Individuals with extra-curricular activities wherein they have held leadership positions
DexLab Analytics stated that they are looking to hire potential leaders, with an all rounded personality who can succeed in a competitive and rewarding environment. The technical rounds for the role are being held this Tuesday, 14th February, 2017 to apply or the role candidates are requested to mail their resume with a cover letter to vivek@dexlabanalytics.com with subject line "Application for Analytics Consultant – Training & Development, Noida".
About The Company:
DexLab Analytics is one of the leading analytics training institutes in the country presently with a good hold in the online training avenues as well. They have three branches at present one at Gurgaon, which is the headquarters, one at Pune and now this new one at Noida. The company has been established by a breed of young analytics professionals with an aim to promote data literacy to the masses in India and abroad to tackle the Big data mountain.
Get More Details, Visit: http://www.dexlabanalytics.com
Contact Info:
DexLab Solutions Corp.
M. G. Road, Gurgaon 122 002, Delhi NCR.
+91 852 787 2444
+91 124 450 2444
DexLab Solutions Corp.
Gokhale Road, Model Colony, Pune – 411016.
+91 880 681 2444
+91 206 541 2444
hello@dexlabanalytics.com
Source :
DexLab Analytics

Business Info :
Dexlab Analytics
K 3/5 DLF Phase 2 Gurgaon Haryana 122002 (Landmark: MG Road Sahara Mall)
Gurgaon, Haryana - 122 002 India
Phone: +91 852 787 2444
Website:
http://www.dexlabanalytics.com