Documentary "Seduced" Exposes The Mens Dating Advice Industry
Worldwide premiere of Seduced, a documentary exposing the men's dating coach industry. Film premieres worldwide on Vimeo starting August 10th 2017.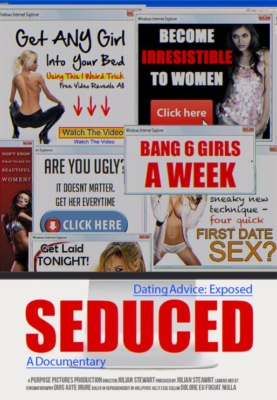 Press Release (ePRNews.com) - CHRISTCHURCH, New Zealand - Aug 09, 2017 - Every year, online marketers make millions selling dating advice they claim will make men irresistible to women. Does any of it work?
To find out, Seduced explores the underground dating coach industry from a student, teacher, researcher, marketer, and woman's point of view.
Are the millions of men searching for dating advice online are getting valuable help? Or are they being taken for a ride by crooks, con artists, and savvy marketers ready to separate them from their money, and shame them into keeping quiet about it?
To answer that question, Seduced doesn't just expose the techniques dating coaches teach, it puts them to the test on hidden camera.
For director Julian Stewart, what started as a late night curiosity turned into a 10 year documentary odyssey including:
• Top dating coaches in the industry, who claim their "systems" allow anyone to consistently attract beautiful women.
• Top dating research psychologists discussing which techniques may or may not have any research supporting their effectiveness.
• Lonely students on a quest to become "Pickup Artists", and ready to pay big money to learn how.
• "Superdaters" Men who have slept with at least 500 women.
• Hundreds of women revealing what it's like to be on the receiving end of these techniques.
What did we find out? Seduced reveals what works, what doesn't, what might be illegal, and who really might be getting "Seduced".
About the Filmmaker
Seduced is the debut feature film of 33 year old director, Julian Stewart from Christchurch New Zealand.
Julian made "Seduced" for men who might be about to spend money on dating advice to know what they are getting into, and to inform women about the coercive and possibly illegal techniques being taught in these secret bootcamps.
"My goal is for men to get more informed before spending money on dating advice."
"My goal is for men women to get more informed about coercive or illegal techniques their dates might be using."
About Purpose Pictures
Purpose pictures is an anonymous collective of artists and activists created for the purpose of exposing exploitative abuse of underserved or stigmatized groups.
Release Date: Aug 10, 2017, 9:00 AM ET.
Available on: Vimeo On Demand https://vimeo.com/ondemand/seduced
Price: $6.99USD
Official Website: http://seducedmovie.com/
Source :
Purpose Pictures Ltd

Business Info :
Purpose Pictures Ltd
New Zealand