Doomwheel set in the Warhammer® universe: A new mobile runner from Katsu Games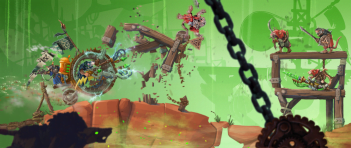 Press Release (ePRNews.com) - CARY, N.C. - Feb 23, 2017 - The Skaven underworld is a rat's nest of deceit, danger, and backstabbing. As an up-and-coming warlock enginseer of clan Skryre, your only goal is to rise through the ranks of the ratmen by building the ultimate engine of destruction: the fastest and most powerful Doomwheel ever made! Powered by scampering rats and hallucinogenic warpstone, the Doomwheel embodies the sheer inhuman ingenuity of the Skaven race: an enormous iron-reinforced wheel, outfitted with spikes, blades, and blasting powerful bolts of lethal warp lightning as it crushes all in its path: enemies, or the least fortunate of your allies.
Pilot your Doomwheel as it rattles through the battlefield at breakneck speeds in this fast-paced infinite arcade adventure. Dwarves got you down? Doomwheel. Rival clans done you wrong? Doomwheel. Goblin grief? Doomwheel. Shatter, skewer, shock and bounce foes of all shapes, sizes, and races as you claw out territory for yourself across the Old World. Develop a newer, deadlier, Doomwheel in your workshop while fending off the vengeful plots of your backstabbing rivals.
"No man-thing can think to surpass my genius, yes-yes!" said Ikit Claw, Clan Skyre Warlock Enginseer and talented inventor of the original Doomwheel. "Let them try!"
"Run, you fools!" said Imperial Wizard Thomas Steiner, immediately before disappearing beneath an active Doomwheel. Steiner was unavailable for further comment.
Doomwheel is coming to smash everything in its path on mobile devices in 2017. Because sometimes you just need to run things over: Doomwheel.
Media Contact: Press@katsugames.com
About Katsu Entertainment
Katsu Entertainment is a game development studio located in Cary, North Carolina. Their core team consists of long-time games industry veterans who have worked on games played by tens of millions of worldwide. From AAA console games to top-10 grossing casual mobile titles, big hits across multiple platforms, genres, and hardware generations, they've worked with some of the biggest licenses in sports, movies and comics, and toys and games. Their most recent mobile game is the worldwide sensation, Sausage Bomber. More information about Katsu at http://www.katsugames.com.
About Games Workshop
Games Workshop® Group PLC (LSE:GAW.L) is based in Nottingham, UK. Games Workshop designs, manufactures, retails, and distributes its range of Warhammer® and Warhammer® 40,000® games, miniature soldiers, novels and model kits through more than 400 of its own Hobby centres, the Internet and independent retail channels in more than 50 countries worldwide. More information about Games Workshop can be found at htpp://www.games-workshop.com and further details about all of Games Workshop's licensees and their products are at licensing.games-workshop.com.
Warhammer: Doomwheel © Copyright Games Workshop Limited 2016. Doomwheel, the Doomwheel logo, GW, Games Workshop, Warhammer, The Game of Fantasy Battles, the twin-tailed comet logo, and all associated logos, illustrations, images, names, creatures, races, vehicles, locations, weapons, characters, and the distinctive likeness thereof, are either ® or TM, and/or © Games Workshop Limited, variably registered around the world, and used under licence.
Source :
Katsu Entertainment