Easigrass explains benefits of artificial football pitches and Why Football Clubs in Dubai should switch to for the benefits of Artificial Grass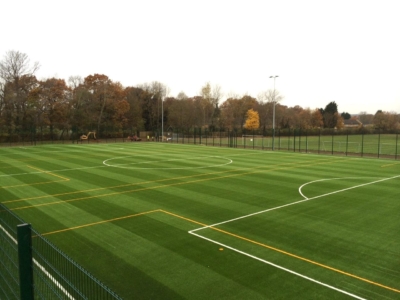 Press Release (ePRNews.com) - Dubai, United Arab Emirates - Feb 19, 2017 - According to FIFA's Big Count, there are over 80,000 footballers in the United Arab Emirates. Add that to the fact that Abu Dhabi and Dubai have both invested heavily in European Football, and you'll see that we're all going a bit football crazy in this part of the world.
Football academies in Dubai, backed by some of the biggest clubs in the world, are popping up all over the place as youngsters are encouraged to take up the sport, while the Dubai Amateur Football League boasts the largest amateur league in the Middle East. There are also numerous 5, 7, and 11‐a‐side games taking place every single week across the region.
With the sport's popularity skyrocketing in Dubai, football clubs and facilities must now ensure playing surfaces are up to the task.
This is where artificial grass pitches come into their own. Here are a hat‐trick of benefits football clubs will see when they make the switch to artificial turf.
Keeping the Beautiful Game Beautiful
Real grass pitches in this part of the world are incredibly impractical. If they're not drying out or full of holes, then they're costing more than their fair share of time and money in upkeep. Nurturing real grass in the UAE is a costly endeavour due to the high temperatures and prohibitive water bills.
By embracing artificial turf for football you'll ensure the beautiful game is being played on a surface befitting of that moniker. In other words, no more divots disrupting your passing game!
The pitches are of Premiership‐standard, and lend themselves to high levels of performance without compromising the quality of the game.
Train Like Pros
When it comes to regular training, there's nothing worse than finding your pitch is unplayable. How are you supposed to unearth the next Messi or Ronaldo when your players aren't getting the game time they need?
By installing artificial grass for football, you're giving your team and players the best possible chance to improve as footballers.
Also, if you're running a sports facility, not only will cancellations be a thing of the past, you stand to increase your profits due to synthetic pitches being able to withstand more football than their grass counterparts.
More playable surfaces = more teams = more bookings. Back of the net!
Carbon Boot Print
Although probably not front of mind for a lot of footballers, there is a huge bonus for the environment when your club or facility opts to install artificial grass football pitches.
The amount of water required to keep a real grass pitch lush and playable is frankly staggering. Did you know keeping elite playing surfaces watered can use up to 20,000 litres of water a day?
By switching to artificial turf, you can turn off the sprinklers for good and do your bit in helping conserve water in Dubai and the UAE.
About Easigrass
We're fanatical about football, and nothing pleases us more than when we get the chance to install artificial grass pitches, and in turn help take the game we love forward in the region.
If you're ready to swap your dry, brown grass pitch with a green, real looking artificial grass pitch then please get in touch to speak with one of our specialists today.
http://www.easigrass.ae/contact-artificial-grass-supplier-dubai-uae.php
Source :
Easigrass UAE