Elisha Telecom Joins Systems Integrations Philippines (SIP) 2016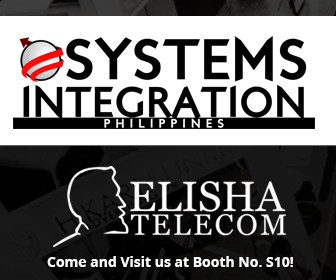 Press Release (ePRNews.com) - QUEZON CITY, Philippines - Aug 03, 2016 - Elisha Telecom Ltd., a global provider of managed Unified Communications, custom Open Source telephony solutions and the only authorized Distributor of Sangoma in the Philippines, announced today that Elisha Telecom is joining this year's Systems Integration Philippines 2016. Come and meet us at Booth No. S10!
This event is organized by Global-Link Marketing & Management Services, Inc., an events organizing and management company that has been in operations since the early 1990s.
Elisha Telecom has been providing VoIP solutions in the Philippines since 2006 and is considered one of the pioneers of Open Source VoIP technology in the region. Elisha Telecom has worked hard to build and maintain a prestigious client base and is proud to claim that some of the most significant organizations in the Philippines are long term clients. Sangoma's hardware and software solutions are a natural complement to Elisha Telecom's current offerings. Medical, Research and Development, BPOs and other industries worldwide have seen this technology adapting to every client's wants and needs.
Systems Integration Philippines continues to be the country's largest and longest running trade show for technologies that are changing the way we live, work and play. Incorporating Shows include: CommWorld, Corporate Gifts Expo, Digital Electronics World, Educa Expo, PALMM Philippines, Signs and Media World Expo and Total Office Products and Services Show.
"Elisha Telecom have provided telephone systems to various industries and as one of Sangoma's Distributors, we believe that joining Systems Integrations Philippines for the past three years is a clear indication that we are now more focused in providing better VoIP Solutions to companies anywhere in the world." says Norai Abdul – Sales Engineer, Elisha Telecom. "We believe that through our technology, anyone can feel confident that their telephony expenditure is at a minimum while they focus more on the growth of their own business. Our existing resellers are extremely satisfied with our services and see us as long term strategic partners."
Some noteworthy Elisha Telecom clients include:
– St. Paul University Philippines – Elisha Telecom integrated the existing Analog PBX infrastructure with an IP PBX system to allow for 'slow' migration to a full VoIP system.
– University of the Philippines – Elisha Telecom has been supplying various campuses of the University of the Philippines with a variety of VoIP equipment for almost ten years now.
– Father Saturnino Urios University – Elisha Telecom deployed an IP PBX with 200 extensions running across two campuses. The PBX includes an XMPP-based server which enables users to use instant messaging service.
– RCBC – Elisha Telecom has provided Asterisk Support and Configuration for their existing IVR on a development environment.
– UnionBank – Elisha Telecom provided installation and Support for their Sangoma PBX and other telephony devices.
– The International Rice Research Institute (IRRI) – Elisha Telecom deployed an Asterisk-based VoIP Solution designed for up to 2,000 extensions across IRRI's 200 hectare campus in Los Banos, Laguna.
Systems Integration Philippines 2016 takes place from Thurs August 11 – Sat August 13, 2016 at the SMX Convention Center – Manila, Philippines. Elisha Telecom's booth will be located at Booth No. S10.
About Elisha Telecom
Elisha Telecom has been providing companies with open source IP telephony solutions since 2006. Founded in the United Kingdom, Elisha Telecom has developed a range of hosted and managed services for clients who require sophisticated telephony without the capital outlay or technical commitment. Elisha Telecom has offices in London in the United Kingdom and in Manila in the Philippines and is therefore strategically placed to provide support worldwide, regardless of time zone. As a client- centric organization, Elisha Telecom builds and maintains strong and long lasting relationships with clients by providing fully customized, cost-effective and efficient services and solutions across all business sectors.
Elisha Telecom employs a highly experienced team of software engineers, with a passion for providing innovative solutions. Its core product is a Fully Managed Unified Communications System platform which is sold as a service allowing clients to scale up and down in real-time so that they only pay for what they need. Elisha Telecom offers solutions for companies that rely on the phone to maintain a competitive edge such as call centres and organizations with offices in disperse locations.
For more information, visit http://www.elishatelecom.com or http://www.globallinkmp.com/SIP/.
Source :
Elisha Telecom

Business Info :
Elisha Telecom
Towers Business Center, 11th Floor, Cyber One Building, Eastwood City Cyberpark, E. Rodriguez Jr. Avenue, Bagumbayan
Quezon City, Metro Manila - 1110 Philippines
Phone: +63 (02) 633 1969
Website:
http://www.elishatelecom.com