Euro Tunnel To Be Bricked Up Post BREXIT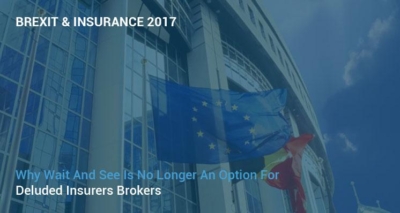 Press Release (ePRNews.com) - GLASTONBURY, England - May 17, 2017 - How much do you really know and understand about BREXIT and the affects it is having on the insurance industry? We hope you understand the real impact of what's going on, and are preparing for a worst case scenario of insurance with no passports. Following 1 set of regulations is hard enough, post BREXIT you will have 2 sets of laws to adhere by.
The UK and EC are both taking a hard line stance in negotiations – so the chance of UK insurers keeping passporting into the EU and EU insurers passporting into the UK are very slim. Every insurer must have a range of Brexit plans from no deal to good deal and between – the PRA will judge if these are adequate.
2019 will be too late to sort out your insurer's post-Brexit plans as the PRA wants to see and vet them by this July.
Immigration and position of EU nationals in the UK and Brits in Europe will need to get agreed before any trade deals with Europe or elsewhere can be discussed. Insurer passporting right does not appear on the agenda as an item .So all insurers must have a post-BREXIT range of options now.
Ian Youngman, author of the brand new market research report Brexit and Insurance (https://brexitinsurance.report/brexit-and-insurance-2017-…) laments that deluded insurers and brokers still cling to a hope that British politicians will deliver on their election promises and that nothing much will change.
Both the UK and the EC have hardened their negotiating positions in the last few weeks- helped by pointless and rather childish political rhetoric from both sides.
Any insurer or broker opting for a "wait and see what they will negotiate" is on a hiding to nothing.
A fast hard BREXIT means that any organisation with cross border business involving the EU needs to be planning now.
The only prudent plan is one that assumes the UK becomes a third country with no special market access deal. Delaying the effects of Brexit from 2019 to 2022 in some transition period makes no difference.
Every firm must have a plan for various scenarios.
If the UK becomes a "third country" – the right to provide services and establish branches under the passporting regimes from the UK will cease. Cross border client solicitation and servicing between the UK and EU will no longer be easy; the ability of branches within the EU to do business across borders will be open to question.
How fast events can change thinking is shown by Gibraltar. Weeks ago it assumed that some passporting deal would be sorted before 2019.This week regulators have accepted that they must work on the basis that insurers and brokers using Gibraltar to enter the EU, will lose that right as soon as Britain leaves the EU in 2019. They hope, and even that is not certain, that the deal with the UK whereby insurers on the rock can write UK business will remain. One insurer has already said it is leaving Gibraltar
How prepared are you? Which of the following statements are true?
1. The Euro tunnel will be bricked up;
2. Passporting rights will end;
3. Overseas insurers in the UK will be nationalised;
4. Gibraltar will lose EU business;
5. All EU citizens will have to go back home;
6. The UK and EU will have separate Solvency 2 rules;
7. Ireland will have a wall in the middle;
8. EHIC will end for UK citizens.
Send your answers to iPMI Magazine for a chance to win £500 off the RRP of a copy of the new market research report BREXIT and Insurance.
LEARN MORE KNOW ABOUT THIS DIFFICULT SITUATION: https://brexitinsurance.report
Source :
iPMI Magazine