First Maserati Levante Now Available For Test Drive In Jordan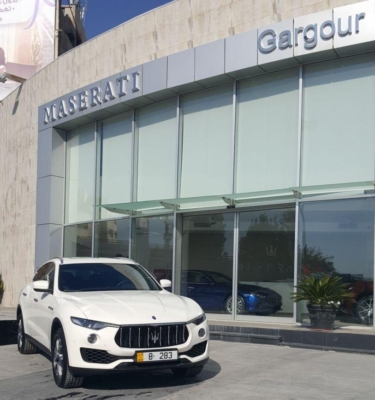 Press Release (ePRNews.com) - AMMAN, Jordan - Dec 11, 2016 - Amman, Jordan (December 2016) – Gargour Automotive Trading Ltd., the official importer of Maserati in Jordan, is pleased to announce the arrival of the first Maserati Levante in Amman for client test drives. The Levante offers the ultimate luxury drive for Jordan, from unique on-road drivability for the streets of Amman to competitive off-road capability for the mountainous terrains.
Following the first reveal at Geneva Motor Show in March, the Levante made its first official appearance in Jordan just weeks later with a static pilot car. In order to achieve the high quality standards and maintain its traditional "Made in Italy" credentials, Maserati strategically invested in a new production line at the historic Mirafiori plant in Turin. As productions ramps up, the first cars are being delivered around the world.
"We've had a lot of interest and even orders since the first reveal of the Levante in Jordan, but now finally our customers will be able to test drive it. It's a beautiful car, no doubt, but only those who have experienced it on-road and off-road can really appreciate it. Maserati has found a way to achieve amazing functionality and off-road capability while maintaining the style and performance of a real Maserati, as we have come to love them", commented Raja Gargour, Chairman Of Gargour Automotive Trading Ltd..
The Levante is available in two variants, the Levante and the Levante S, both featuring latest evolution of the Maserati 3-litre V6 engine with twin turbo. The top of the range Levante S with 430hp makes it to 100km/h in just 5.2″ and has a top speed of 264 km/h. The 350hp Levante achieves the 0-100 km/h sprint in 6.0″ and a 251km/h top speed. Both versions adopt an eight-speed automatic ZF gearbox with a choice of drive modes: "Normal", I.C.E., "Sport" or "Off-road".
The Levante is here to excite any sports car driver counting on performance-oriented features, such as the extensive use of lightweight materials, ideal 50-50% weight distribution, the lowest centre of gravity and the best aerodynamic efficiency in its segment. On a par with this, the off-road equipment, including the standard Air Springs, electronically controlled Skyhook shock absorbers and the intelligent Q4 All-Wheel-Drive system, completes a product made to surprise avid travellers and adventure lovers as well.
The Levante also comes with a wide range of new options and content, including: Adaptive Cruise Control with Stop & Go function, Forward Collision Warning and Brake Assist System, Lane Departure Warning, Surround View camera, 8.4″ Touch Screen display and a high level of customisation that includes two cutting-edge packages: Luxury and Sport. With the Levante a new wind is blowing through the SUV segment, guaranteeing the passion, flair and exclusivity that have distinguished all Maserati models for over a century.
Gargour Automotive Trading Ltd. is among the leaders in the market for luxury cars. The Maserati showroom is located at Al-Kilo Circle.
Source :
TRACCS jordan