FlipHTML5 Offers Crafted Restaurant Menu Templates for the Food Industry
FlipHTML5's restaurant menu templates cater to food and beverage businesses, such as restaurants and cafes, allowing them to combine creativity, interactivity, and practicality to create unforgettable dining experiences for their customers.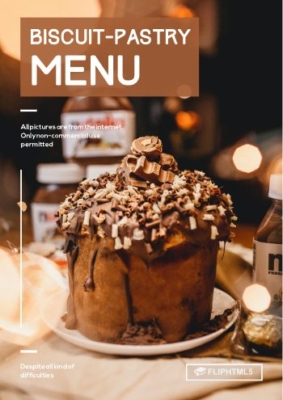 Press Release (ePRNews.com) - Hong Kong, China - Aug 08, 2023 - "As the dining landscape evolves, embracing digital menus becomes crucial in providing an impressive dining experience. Our restaurant menu templates offer the blend of captivating design and user-friendly features, enabling restaurants to stand out and engage diners like never before," said Winston Zhang, CEO of FlipHTML5. The platform offers a vast selection of professionally crafted restaurant menu templates, catering to different restaurant styles and cuisines. Each template is designed with aesthetics and functionality in mind, ensuring a delightful browsing experience for diners.
FlipHTML5's intuitive interface allows users to customize the restaurant menu template with ease. These templates support multimedia elements such as images, videos, and audio, allowing restaurant owners to showcase their dishes in mouthwatering detail. This interactive approach adds excitement and entices diners to explore the menu further. Restaurants can also add their branding elements, for example, the logo to maintain a consistent and professional brand image.
These restaurant menu templates are optimized for different devices, including desktops, tablets, and smartphones to ensure customers have a seamless browsing experience no matter what device they are using. With FlipHTML5's menu templates, restaurants can make real-time updates to their digital menus, such as adding new dishes, changing prices, or promoting specials. This flexibility makes it easy for customers to access the latest menu offerings.
FlipHTML5's restaurant menu templates are a cost-effective solution for food business owners. By adopting digital menus, restaurants can save on printing costs and contribute to environmental sustainability. The second benefit of these menu templates is that they can help restaurants increase their reach. With the ability to share menus online, restaurants can reach a broader audience, including potential customers browsing for dining options in the area. And last but not least, FlipHTML5 has built-in analytics to provide valuable insights into customer interactions with the menus to help restaurants make informed decisions to optimize their offerings.
For more information and to explore FlipHTML5's restaurant menu templates, please visit FlipHTML5.
About FlipHTML5
FlipHTML5 is a leading provider of digital publishing solutions, empowering users worldwide to create interactive and engaging digital content, including menus, brochures, catalogs, magazines, and more.
Source :
FlipHTML5 Software Co., Ltd.