FlipHTML5 Online Magazine Maker Offers Easy-to-use Features for Users
FlipHTML5 online magazine maker enables users to create and polish their digital magazines with its powerful features.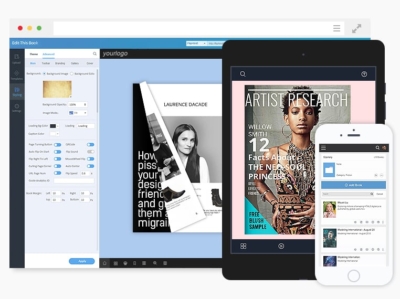 Press Release (ePRNews.com) - Hong Kong, China - Nov 22, 2022 - Online magazines are cheaper and easier to create as compared to printed magazines. Publishers always look for the easiest and most cost-effective way of creating and publishing magazines online. FlipHTML5 has capitalized on this market niche and created an online magazine maker.
The FlipHTML5 online magazine maker enables users to create engaging magazines with no software downloads. Users can upload PDF, PPT, Word documents, and images to create an interactive and responsive digital magazine on a web browser. Magazines created with its online magazine maker will have the feel of a printed one but with tons of added features.
This online magazine maker is easy to use and has a straightforward user interface. Users only need to upload their content and the program will automatically convert the content into a magazine that has page-turning effects and sound. Then they can customize the digital magazine with its potent multimedia editor, publish and share it with their audiences online.
The FlipHTML5 online magazine maker supports creating a smooth and immersive reading experience for readers. They are allowed to take full advantage of the search function and add thumbnails and a table of contents to their digital magazines to help readers navigate their content easily. And readers can use the next and previous buttons or simply scroll to move to the next page.
Users are able to run ads in the magazine to boost their revenue by adding links to their advertiser's website directly to their digital magazines. The online magazine maker helps their magazines to gain more exposure with its SEO feature by editing SEO text to control how search engines index their content.
"Our online magazine maker lets users add high-resolution images to give their audience a better reading experience. They can also go beyond pictures, more multimedia elements such as videos, audio, photo galleries, animations, etc., are supported to be inserted to enhance reader engagement," says Winston Zhang, CEO of FlipHTML5.
For more information about this online magazine maker, please visit FlipHTML5.
About FlipHTML5

FlipHTML5, an expert in digital publishing platform development, is committed to working hard for many years to offer users a wide range of user-friendly and efficient e-publishing features.
Source :
FlipHTML5 Software Co., Ltd.