FlipHTML5 Stands out as a Critical Distance Teaching Tool in 2020
A plethora of up-to-date features and constant upgrades always keep FlipHTML5 the must-have distance teaching tool for teachers to have everything they need under one roof.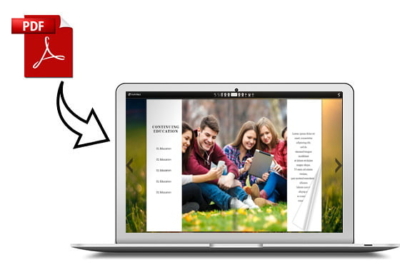 Press Release (ePRNews.com) - Hong Kong - Oct 28, 2020 - 2020 has surged demands for distance education. While most schools around the world are shut due to the health crisis, teachers are facing a new challenge of teaching online and remotely. How to engage students in a virtual classroom has become a headache for most teachers. FlipHTML5 has acted as a powerful distance teaching tool and tailored solutions for them.
FlipHTML5 has long been known for its excellent digital publishing services and helped users of all types to publish their content online in the most fun and interactive way. Books made on FlipHTML5 come with realistic page-turning sound and effects just like the real ones. When using FlipHTML5 as a distance teaching tool, teachers can easily add multimedia (video, audio, images, text, links, hotspots, photo slide shows, etc.) to their online textbooks that are converted from PDF files. To fully enrich their textbooks, teachers can customize the theme, background, color, size, and background music to match different teaching topics. It works, especially on young learners, to focus on the textbooks throughout the online lessons.
On the other side, students will have no trouble accessing the online textbooks shared by their teachers. As the flipbook is fully responsive when being viewed on different devices, it accommodates mobile, tablet and computer screens. Teachers only need to share one link to students without the trouble to send different links for different devices. Anna Lee, chief designer of FlipHTML5 states, "The FlipHTML5 team is trying their best to tackle all conventional barriers in distance education, primarily related to the delivery of learning resources to students." FlipHTML5's distance teaching tool provides students with lasting educational engagement and interesting user experience.
Overwhelming by all kinds of distance teaching tools and apps, teachers will find FlipHTML5 not only useful but also hassle-free. They don't need to download bulky software to get their PDFs transformed and enriched into flipbooks as they can upload PDFs, edit the textbooks, and publish them right on the website. FlipHTML5 helps teachers to host their teaching books on its website, secured and smooth.
For more information about the distance teaching tool, please visit FlipHTML5.
About FlipHTML5
FlipHTML5 is a powerful digital publishing platform that can be used to convert PDFs into flipbooks, like e-textbooks, virtual magazines, e-brochures, online catalogs, photobooks, and more. It can work as an innovative distance teaching tool, trusted by millions of teachers worldwide.
Source :
FlipHTML5 Software Co., Ltd.