FlipHTML5's Online Magazine Platform Elevates Magazine Creating Process
FlipHTML5 provides an online magazine platform for people from all walks of life to create digital magazines. Without the expertise of an advanced level, everyone is equipped with the ability to make sleek and beautiful digital magazines.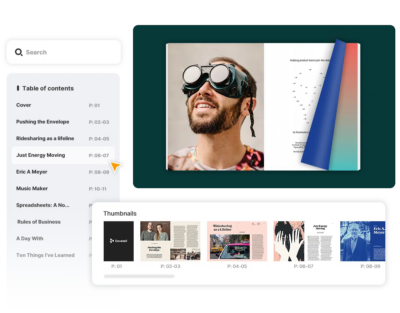 Press Release (ePRNews.com) - Hongkong, China - Aug 24, 2023 - When looking for ways to start the first step of making digital magazines, FlipHTML5's online magazine platform is preferable. No matter whether publishers, designers, advertisers, marketers, or content creators, all of them can better showcase their ideas with FlipHTML5. FlipHTML5 is compatible with multi-devices, including tablets, laptops, and mobile phones, to cover different readers and reading scenarios. Whenever people are at home, at work, or traveling, they can quickly access digital magazines online.
In the digital era, people no long settle for dull, static magazines. Something interactive and responsive attracts more audiences. Thanks to FlipHTML5, users can convert plain PDFs, PPTs, and Words to dynamic page-flipping magazines in minutes. What sets FlipHTML5 apart is its customization service. On the online magazine platform, users can customize the settings to form a unique style for their magazines. Moreover, the customized settings can be saved as templates for easy use next time.
If one doesn't satisfy with only adding the effect of flipping, FlipHTML5 also allows embedding multimedia elements. To finish an interactive magazine, high-quality animations, GIFs, audio, and videos make sense. On the online magazine platform, users can feel free to use these multimedia components to enhance the content, making vibrant, media-rich online magazines.
Without downloading any software, FlipHTML5 supports sharing digital magazines to social media by QR codes and URLs. On the online magazine platform, advertisers or marketers can embed hyperlinks of the brand, driving traffic to their websites. FlipHTML5 can also gather data like views, shares, downloads, etc., offering valuable insights into content optimization. Furthermore, users can integrate their magazines with Google Analytics to mine more data. By embedding Google Analytics ID into digital magazines, publishers can know how many people use their magazines, how the audience reaches them, and how to keep the audience coming back.
"FlipHTML5 offers an online magazine platform for all walks of people. For novice users, it facilitates your creation. For professional users, it helps you get inspiration. Everyone can create a well-designed digital magazine with it," says Winston Zhang, CEO of FlipHTML5.
To learn more about this online magazine platform, please visit FlipHTML5.
About FlipHTML5
FlipHTML5 is a world-leading digital publication-providing platform. It helps create digital publications for users all over the world. Its professional templates and multimedia page editor allow users to create interactive content, including online brochures, magazines, catalogs, and more.
Source :
FlipHTML5 Software Co., Ltd.