FreeMedSuppQuotes Releases Free Ebook 4 Medigap Guidelines You Might Not Know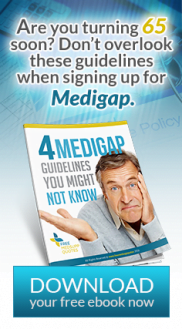 Press Release (ePRNews.com) - MILFORD, Mich. - Jul 01, 2017 - To help Medicare supplement plan (also known as Medigap) applicants in securing a policy, FreeMedSuppQuotes releases a free and useful resource material, 4 Medigap Guidelines You Might Not Know. The ebook aims to provide applicants with vital Medigap details as an additional benefit when one requests for a Medicare Supplemental Quote at http://freemedsuppquotes.com/medicare-supplement-quotes/.
Medigap policies, as beneficial retirement solutions, can also be an overwhelming topic to understand. From learning about the different Medicare Supplements offered by private insurance companies to finding ways to get the best rates for plans, the information one needs to go through is both taxing and time-consuming.
The ebook, 4 Medigap Guidelines You Might Not Know, offers a condensed (yet essential) take on the many important aspects one needs to know about Medicare Supplemental Plans. Aside from a summary of benefits provided by each plan, the ebook also details several shopping tips to help applicants when purchasing coverage. Additionally, the ebook shares several benefits beyond retirement health and wealth to give applicants an even clearer perspective on the importance of being covered during the retirement years.
The ebook is free for download after an applicant requests for a Medigap Quote. Requesting a quote is also free and also allows visitors connect to trusted agents who will answer any question regarding Medigap coverage.
The decision to release a free ebook is also part of the drive that FreeMedSuppQuotes constantly pushes to provide accessible means for individuals to secure their future. FreeMedSuppQuotes hopes that the ebook will help more people to learn about Medigap solutions.
Source :
FreeMedSuppQuotes