Frost & Sullivan Selects Tactio Among "Notable Participants" in Its Latest US Telehealth Market Research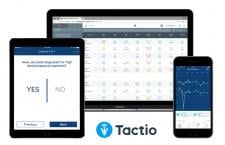 Press Release (ePRNews.com) - ORLANDO, FLORIDA - Apr 24, 2017 - ​Tactio's app-enabled telehealth solution, TactioRPM, is referenced among the top participants in Frost & Sullivan's latest Growth Opportunities in the US Telehealth Market, Forecast to 2021. The research provides in-depth view of the US telehealth market broken down into 18 market segments, three of them referencing Tactio as a "notable participant":
Mobile Health (mHealth)
Remote Patient Monitoring (RPM)
TelePharmacy
Telehealth services and systems have made the most progress in remote management of post-acute care patients or among patients with chronic conditions, many of whom have one or more co-morbidity. This progress is visible across 4 major segments: remote patient monitoring (RPM), virtual telehealth visits, mobile health (mHealth), and personal emergency response systems (PERS). This analysis finds the overall US telehealth market will grow by a compound annual growth rate (CAGR) of 29.3% from 2016 to 2021.
The analysis ranks the segments and sub-segments based on a variety of criteria ranging from short-term revenue opportunities to the transformative potential of each segment covered. The research finds the greatest opportunity will be associated with the mHealth segment because, in addition to stimulating service via a large array of devices and thousands of health-related apps, mHealth offers many enabling capabilities across all segments and sub-segments including connectivity and secure data transport.
This analysis also covers a mix of large and smaller industry participants offering services including Medtronic Care Management Services, Philips Telehealth, American Well, Teladoc, Qualcomm Life, Vidyo, Zipnosis, Dexcom, Tactio, and many others.
"The U.S. Telehealth market is poised to take off as the intersection of technical capability, cost-related issues, regulatory change, and consumer needs align.  Tactio is a notable company pursuing telehealth in a variety of ways.  The company is active in medical-grade solutions but also sees the benefits associated with extending telehealth apps, devices, and services beyond the chronic care setting.  Tactio is ahead of the curve when it comes to recognizing the full potential of telehealth across all segments of the population" said Victor Camlek, Principal Analyst, Frost & Sullivan.
Frost & Sullivan predicts that within 5 to 7 years, telehealth will become a mainstream health option. The consumer or patient will be able to maintain an ongoing relationship with his/her physicians while enjoying greater ease of access. Meanwhile, the global proliferation of the Internet of Medical Things (IoMT) will reduce the number of new chronic condition patients.
"From IP Telephony to digital health across two companies, we've always been enjoying the exchange with Frost & Sullivan analysts such as Victor Camlek about market directions. Starting from simple, patient-focused weight tracking at the birth of the mHealth market, our systems are now used by global healthcare providers for diabetes, COPD, CHF, cardiac rehab, bariatric, Whipple and orthopaedics surgery as well as other acute care programs for cancer and infusion therapy. We're proud of the recognition by Frost & Sullivan as a market leader, by the versatility of the TactioRPM platform applications for which innovative providers are engaging with us to transform their patient journeys making them digital, mobile and connected," said Michel Nadeau, P.Eng., CEO.
Tactio will demonstrate its TactioRPM platform at ATA 2017 in Orlando from April 23rd to 25th and Hospitalar in Sao Paulo, Brazil, from May 16th to 19th.
Frost & Sullivan "Growth Opportunities in the US Telehealth Market, Forecast to 2021" analysis is available at https://www.frost.com/sublib/display-report.do?id=K122-01-00-00-00
About Tactio
Tactio helps innovative healthcare organizations make the patient experience mobile, digital and connected with a telehealth platform that combines the power of apps, health IoT and cloud services. Founded in 2009, Tactio is headquartered in Montreal servicing services payers, providers and pharma through a global network of channel partners in North America, Europe and South America. Tactio health apps have been downloaded by more than 4.5 million users in 135 countries and 17 languages. For more information, visit www.tactiohealth.com or follow @TactioHealth on Twitter, Facebook or LinkedIn.
About Frost & Sullivan
Frost & Sullivan, the Growth Partnership Company, works in collaboration with clients to leverage visionary innovation that addresses the global challenges and related growth opportunities that will make or break today's market participants. For more than 50 years, we have been developing growth strategies for the global 1000, emerging businesses, the public sector and the investment community. For more information, visit www.frost.com.
Tactio and TactioRPM are tradenames. All other trademarks and tradenames used here above are tradenames or trademarks of their respective companies.
MEDIA CONTACT:
Charles Coutu-Nadeau, Product Manager, 514-657-7628 x787; ccnadeau@tactiohealth.com
Source :
Tactio