Galle and Daum Nancy "bat" vases, brides baskets, Weller, Roseville, more at Woody Auction, March 18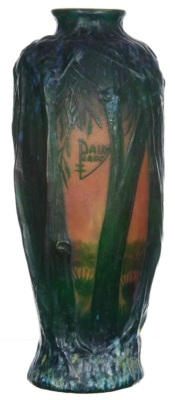 Press Release (ePRNews.com) - DOUGLASS, Kan. - Feb 16, 2017 - Woody Auction is offering a surefire cure for cabin fever with what it's calling the finest art glass auction ever held at its Douglass gallery, opened in 2015. Offered will be over 350 lots, featuring three core collections of mainly art glass and art pottery. The sale will be held Saturday, March 18th, starting at 9:30 am Central time. The gallery is located at 120 East 3rd Street in Douglass.
Expected top lots will include Galle and Daum Nancy "bat" vases, a Galle marquetry vase, brides baskets, Weller and Roseville art pottery. For those unable to attend in person, internet bidding will be provided by LiveAuctioneers (full link at www.Liveauctioneers.com/woody-auction-llc. Absentee bids will also be accepted. As with all Woody Auction sale events, everything will be sold without reserve.
The entire catalog may be viewed online now, with crisp color photos, at www.woodyauction.com. Particularly beautiful are the two "bat" vases, the Daum Nancy example an extremely rare signed French cameo art glass vase, 10 ¼ inches tall, depicting eight bats in flight over a church steeple. The vase has a yellow, orange and amethyst mottled background, with cameo carved amethyst overlay.
The Galle "bat" vase, diminutive at 5 ¼ inches tall, is signed, with a white and dark lavender carved design that features bats in flight silhouetted by the moon over a village. The Galle marquetry vase, also signed and 5 ½ inches tall, has a white background with wheel carved pink overlay and large marquetry blossoms. An inscription in French, translated, reads, "Happiness in the new century."
A pair of signed Galle French cameo art glass vases – one having a green background with strong carved pink floral blossom overlay, the other boasting vibrant translucent mottled seaweed green coloring with cameo carved branch, leaf and berry design – will attract bidder interest, as will a signed Emile Galle French art pottery figural owl, 13 inches tall, with a life-like brown glaze, on a red base.
Signed Daum Nancy French cameo art glass vases will be plentiful. Top lots will include a lovely and colorful 7 ½ inch vase with a fall scene décor along a lakeside and flowing creek; an 11 ¼ inch blown mold vase with forest décor and yellow and orange mottled background; and a 19 ¾ inch vase showing a cameo carved amethyst tree décor with multi-colored falling leaves. All three are must-see examples.
The Tiffany name always snaps bidders to attention. The sale will feature a 4 inch by 9 inch watercolor on paper beach scene with sailboats in the background, signed "Louis C. Tiffany" and mounted in a 9 inch by 14 inch frame; a signed art glass paperweight vase having a yellow opaque background and a large red blossom design; a signed favrile art glass vase, 7 inches tall, multi-color caramel shading to green; and an art glass flower form in a beautiful green pulled feather design and gold iridescent foot.
Beautiful Handel lamps will also come up for bid. These will include a marked reverse painted lamp having a chipped ice shade with exotic birds of paradise in flight against an orange and black mottled background, artist signed "HB"; and a marked reverse painted lamp, also with a chipped ice shade, with colorful parrots and butterfly among blossoming peonies, against a charcoal gray matte ground.
Brides baskets will feature a cream satin art glass ruffled bowl with coralene floral décor, set on a Monarch #556 silverplate frame; a pair of pink satin diamond quilted mother of pearl square bowls set on a Reed & Barton #1105 silverplate stand; and a Mt. Washington unmarked Crown Milano tri-color bowl with lovely pansy and geometric blossom décor, set nicely on a Pairpoint #2261 silverplate stand.
Vases by the French maker Le Verre Francais will cross the auction block. Lots will feature a signed French cameo art glass pedestal vase having a mottled orange background with dark amethyst cameo carved overlay featuring a scarab design; and a signed French cameo art glass vase having a pink and white mottled background with blue and green mottled Cypress pattern. Both are marked "Charder."
Returning to Galle, other featured lots will include a rare signed 'Emile Galle Nancy' French art pottery wall pocket with a maroon background and embossed grasshoppers and blossom décor, 9 inches by 6 inches; and a marked "Emile Galle" French art pottery vase with four dimpled sides, two handles, and embossed floral and butterfly design. The vase, in brown, green and tan tones, is 7 ½ inches in height.
Back to Daum Nancy, and more spectacular offerings, to include a signed French cameo art glass vase boasting possibly the finest winter scene item Woody Auction has ever sold, 14 ¾ inches tall; a signed French cameo art glass covered jar in a rare shape and with a rare winter scene décor with pattern cut and enameled lid; and a signed French cameo art glass creamer with an ice blue background and springtime scenic décor.
Woody Auction is always accepting quality consignments for future sales. To consign an item, an estate or a collection you may call them at (316) 747-2694; or you can e-mail them at info@woodyauction.com. To learn more about Woody Auction and the March 18th auction, please visit www.woodyauction.com.
Source :
Woody Auction