Gary Lee's Brown-Daub Kia awarded "Kia Dealer of Excellence"
"My passion is to pursue professional excellence while making every customer a highly valued member of our dealership family." -Gary Lee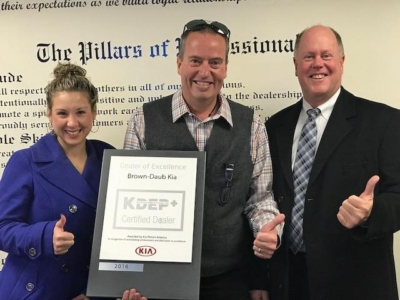 Press Release (ePRNews.com) - EASTON, Pa. - Jun 06, 2017 - Gary Lee's Brown-Daub Kia, located at 3600 William Penn Highway in Easton, has accomplished what very few Kia dealers tend to achieve. Kia Motors America, Inc. congratulated Brown-Daub Kia after an extensive third party assessment that analyzed the dealership's interaction with its customers, how knowledgeable the staff is, customer satisfaction, and execution of core processes. In early 2017, Gary Lee accepted the notable honor of being enrolled in the Kia Dealer Excellence Program! Gary Lee, also known as, That Family Guy, says, "My team has worked so hard over the years to provide excellent customer service. This award is a reflection of the compilation of each department's hard work and dedication. I couldn't be more proud!"
The 2016 KDEP+ certification is a distinguished achievement that Brown Daub Kia accepted in for the second time. Brown-Daub Kia is among the 11% of dealers in the Eastern Region that received this accolade. General Manager, Mikal Sabatine, states "Being acknowledged as a 'Dealer of Excellence' starts with Gary Lee's very own mission statement, which gives all employees a clear direction of where he wants to take this dealership, and that is, achieving and maintaining professional excellence."
For more information visit about Gary Lee's Brown Daub Kia, visit http://www.browndaubkia.com/.
Source :
Brown-Daub Kia